"Watch it" "Slow down" and "Careful", as I vaguely remember, are the three phrases my father repeatedly spat on me during our recent 5-day family road trip to Manali from Delhi, the idea of which germinated in my mind when Nissan India asked if I wanted to test drive one of their cars on a road trip to the Himalayas somewhere.
Read: Nissan Sunny Review
A family road trip, as I experienced myself, can be just as wonderful an experience as with friends. Though of course, a road trip with friends has its own perks — with the biggest benefit being the fact that you don't feel a need to pre-plan your journey while travelling with friends, whereas when with the family, you need to pre-plan and pre-plan a lot. Because if you already know where you're going and if the places you're visiting are peaceful enough for spending some family time together, then you're in store for some amazing lifetime memories.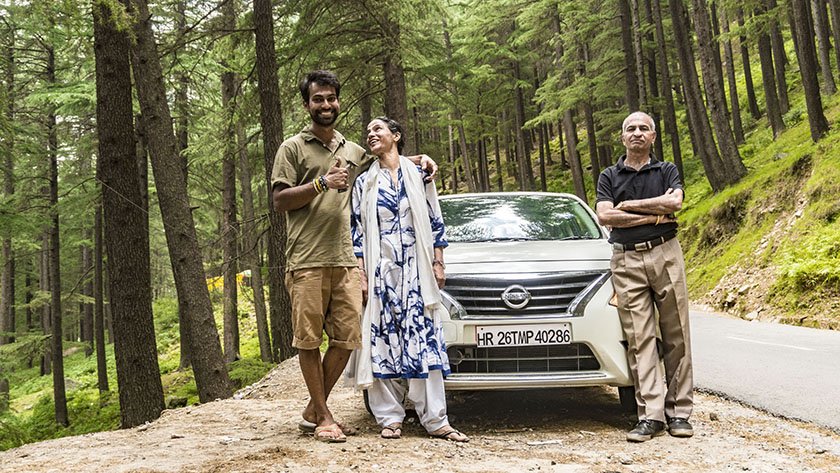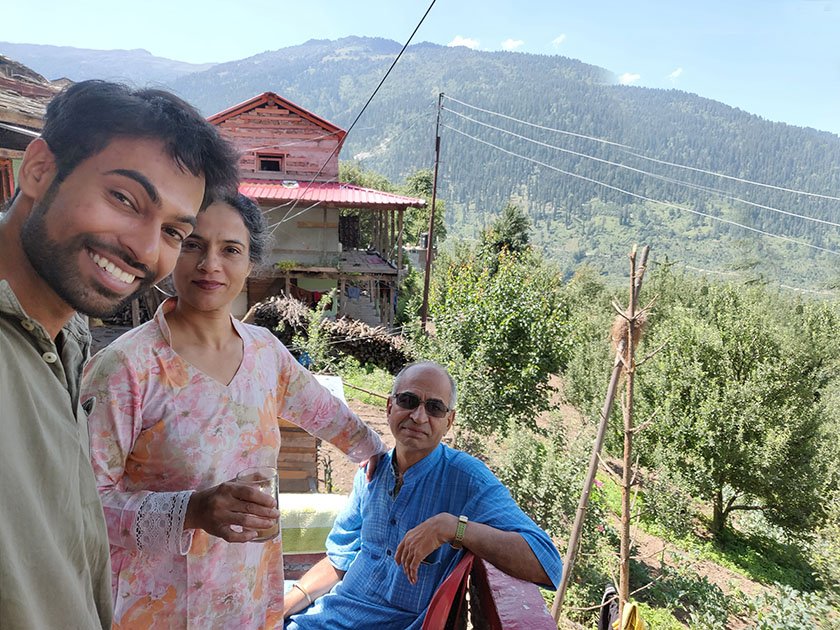 So if you too are planning a few days long road-trip in the Himalayas with the family, I can recommend Manali. Here, a 5-day road trip around Manali from Delhi:
Where Did I Go In Manali
Well, to honestly admit, I didn't visit Manali at all but a couple of other offbeat places close to Manali. I mean we only had three days to explore the region (with other two days dedicated to a full-day drive to and from Delhi) and I didn't want to waste them in Manali's brutal traffic congestion. [Tip:  Because of the road construction between Chandigarh and Manali, road traffic in Manali has worsened this year, and may even stay that way for the next few seasons].
So cutting Manali off our travel list but yet not totally avoiding the beauty of the surrounding Kullu Valley, I carefully chose Hallan Valley and my personal favourite — in the entire Himachal Pradesh – the town of 'Sethan'.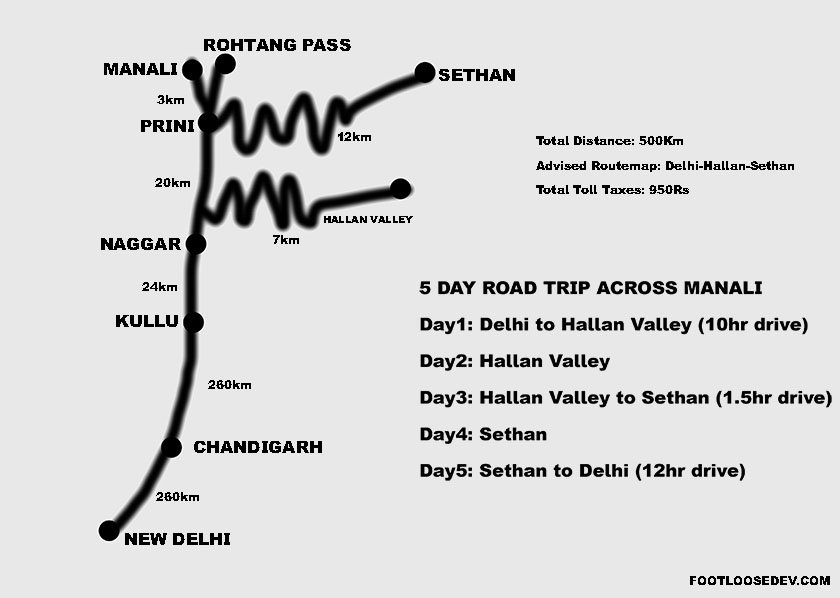 Understanding Basics: The Route Map
If you're driving and visiting the Hallan Valley & Sethan (located in Hamta Valley), note that you're not required to go to Manali. Both the places are located before Manali. For Hallan Valley, catch the old-Kullu Manali highway from Kullu (towards Manali) and then follow the Hallan Road on your right, as you bypass the town of Naggar. The Hallan Road is pretty good in shape and can be visited in a small family car as well as a Traveller. Government buses also run on this route.
For Sethan, however, reach the town of Prini (located 3 km before Manali) and then take the road to Hamta. Sethan is located at the 35th curve and about 9km from Prini. The road to Sethan is a little bad in shape and is a pretty steep climb.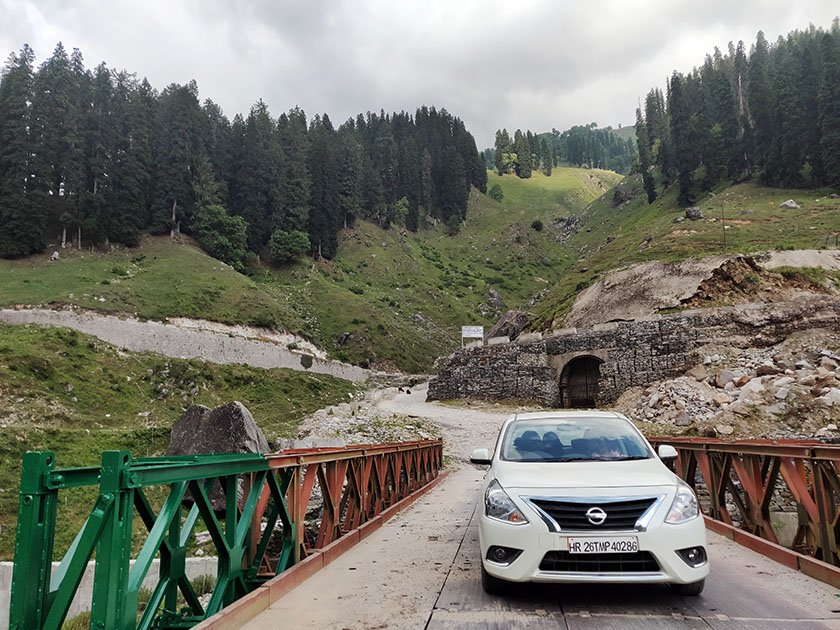 There are no government buses running on Prini-Sethan route and is only accessible by a 12-seater traveller, hired jeeps and private taxis/cars.
Hallan Valley: The First Stop
Hallan Valley is a tiny unheard of valley consisting of nearly a dozen villages — most of which have no guest houses or any tourist facility for those wanting to spend a night. I ended up exploring Hallan Valley the first time while returning from my solo motorbiking trip to Spiti Valley in 2016 and luckily finding a homestay to explore Hallan Valley for a few days. Since then, I've been to the same place about half a dozen times.
It is an ideal place for those who want to experience a village setting and explore local Himachali lifestyle.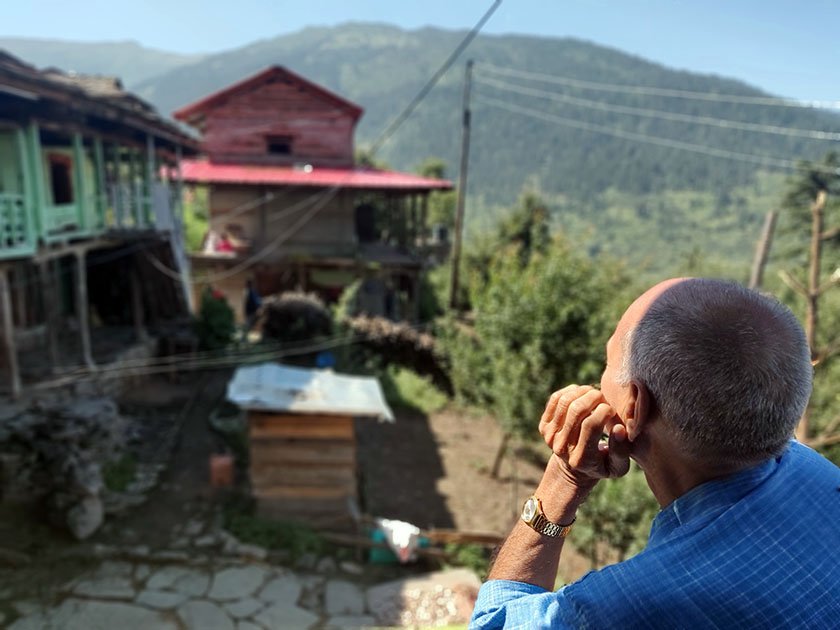 We spent a day and a half in Hallan relaxing in the town of Charanag, with nothing much on our to-do-list but simply soaking in its laid-back life.
Next Up: The Town Of Sethan
Despite being offbeat, Sethan and Hallan are two very different places. Where Hallan Valley has a more traditional Hindu Himachali influence (from the architecture to the lifestyle of locals) Sethan is more Tibetan in its appearance, as people in Sethan are the original immigrants of Spiti Valley and the adjoining valleys of Tibet.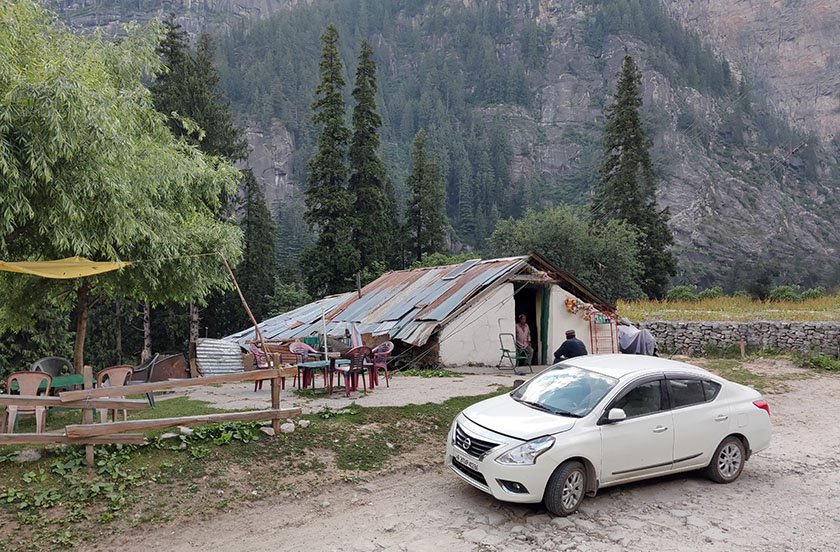 Located approximately 800m higher than Manali, Sethan, with its 2800m elevation from the sea level, is a place for slow travellers. From Sethan, one can see the towering Dhauladhar ranges surrounding the village, and the river Beas flowing right next to it – perhaps a few thousand feet down.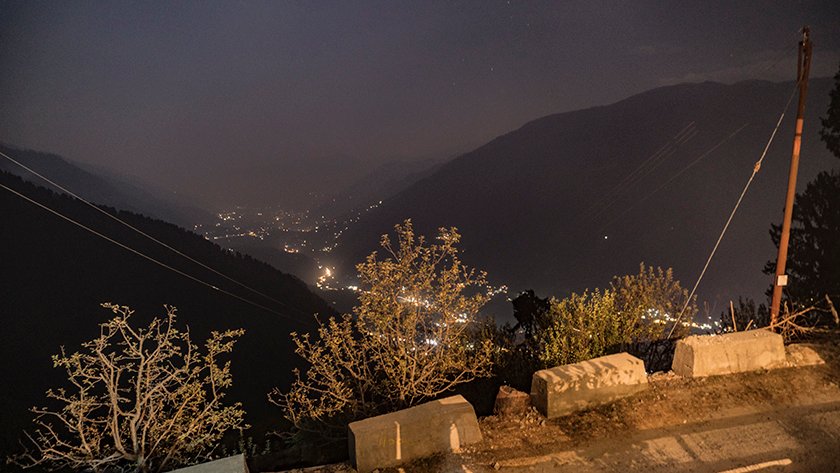 We spent two full days in Sethan, as I took my mom and with a few other guests (I also run a permanent camping site in Sethan) for hikes on both days. When I wasn't (or sleeping late until the afternoon) my parents took their time befriending locals in the village, more than I ever did myself.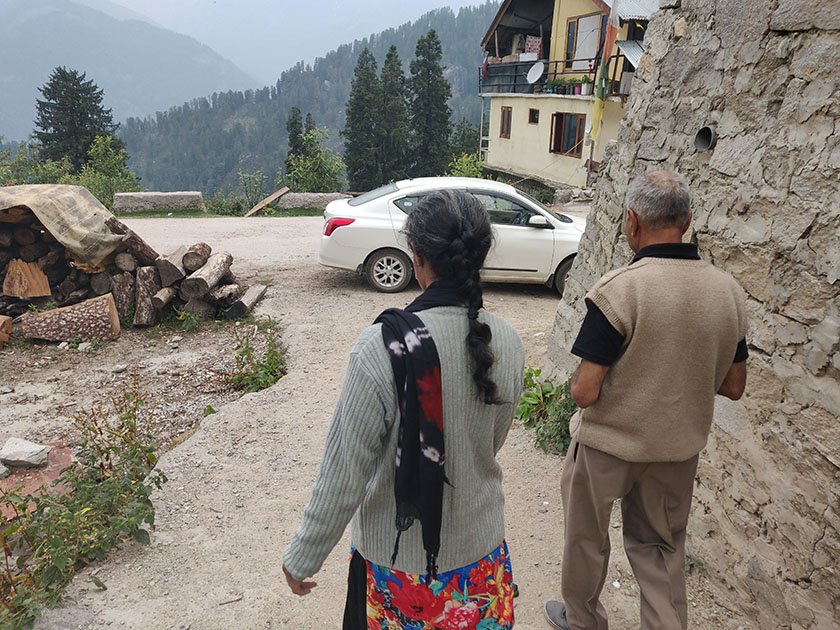 With two days bein totally dedicated to driving, and the rest of the three days devoted to lazy explorations of Hallan Valley and Sethan, the 5-day road trip from Delhi felt just as relaxing as a holiday in the Himalayas is supposed to be!
Disclaimer: I was on a blog trip with Nissan India who provided me with a car. Though my trip was partly covered by them, all experiences, suggestions and endorsements are solely personal. I only recommend what I personally experience and find worth appreciating.