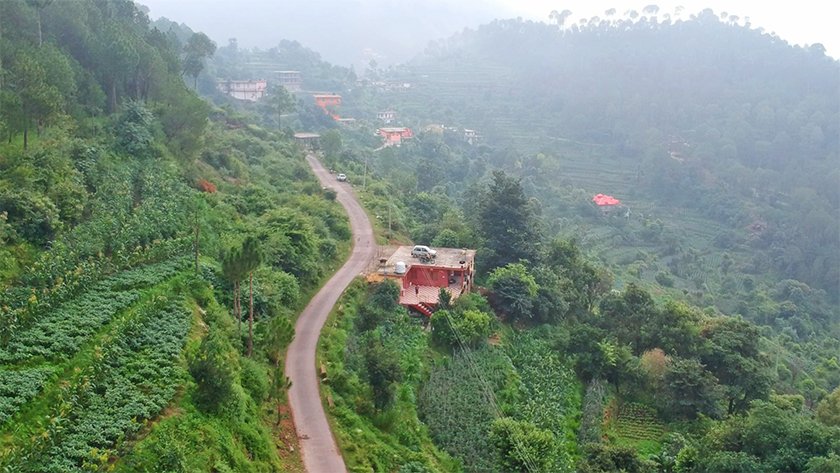 Off late, I've seen myself covering weekend getaways on my blog quite a lot, places that can be reached in or around 6 hours from New Delhi. And this is happening because I've recently bought a new motorbike, and with that, started planning more and more road-trips.
The only problem is, however, every time I leave home for the next big adventure, I end up staying at a place not too far from New Delhi, on Day 1. My inexperienced rider 'self' doesn't allow me to ride for more than 6 hours, or, say, 300 km in a day.
Where this is certainly annoying, for it takes me twice the time to travel (for example it takes me two days to travel from Delhi to Manali on my motorbike, that, otherwise, is a convenient overnight journey) it allows me to explore a place that can otherwise be an ideal short-weekend-drive-away-destination from Delhi. For example, during my previous 20-day road trip across Uttarakhand, I spent my first night at Kalagarh – which, I later realized, can be an ideal weekend destination from New Delhi, given its offbeat and rural charm on top of a scenic short drive.
This time as well, as I left home for a one-month monsoon road-trip across Himachal Pradesh (which later forced me to return home in about 20 days because of some foreseen events) I ended up at a place that can rather be another great weekend destination.
Barog: An Ideal Weekend Getaway
Less than 6 hours drive, or a precise 290km away, from New Delhi, lies the foothills of the Himalayas and the unspoken and vaguely overlooked tourist destination of Barog.
Precisely, Barog is located on the Kalka Shimla Highway, around 60kms from Chandigarh. The drive to Barog is a pleasant one (including most of the hours driving the Delhi-Chandigarh highway) before you start climbing on Chandigarh-Shimla highway.
Barog is located almost halfway from Chandigarh to Shimla.
Speaking of its geographic location, Barog has nearly 2000m above sea level elevation, with the temperature ranging between 4 to 14-degree Celsius in winters and around 20-27 degrees in summers.
What To See And Do In Barog
To be honest, Barog isn't a place for exploring tourist highlights or ticking some highpoints off a list. In fact, there isn't much to do in town. But if you still want to do something when you're there you can explore the Barog's Graveyard, Choor Chandni Peak and Dolanji Bon Monastery.
You cannot compare Barog with its neighbors like Chail and Shimla and Kufri, but given Barog's easy location (that guarantees no traffic) it is a great place to spend a quiet and relaxing day and go back to Delhi.
During my one day stay in Barog, I just explored a few local villages and rode my motorcycle around. And since Barog and surrounding isn't a popular tourist destination I got to see a strong village culture, with unspoiled nature. I would find a cozy corner and just enjoy the freshness of the place.
Where To Stay In Barog
As always, I didn't stay in the main town in Barog but around 4km away from it at a place called LivinsStoneStayz Barog.
The place was more or less offered an apartment-like setting with a fully-functioning kitchen that can be used for self-cooking or to order some food cooked in-house by a helper. The place moreover had a living room, making it an ideal place to stay for groups who want to hire an entire property and enjoy. The only problem was, there were only 3 rooms in the property, keeping the total occupancy to a max of 6 (or 9 people with an extra bed).
Is It Worth Visiting Barog?
As I said earlier, if you're comparing Barog with the likes of Shimla or Manali or Mcleod Gunj – a town with a big market and enough tourist highlights to explore locally, you will be disappointed. Barog offers nothing beyond a simple hill-station, and its advantage lies only in its location. Where Shimla still takes around 9 hours (often much more because of traffic) and Manali takes 14 hours to reach, Barog is only 6 hours away from Delhi (or 1.5 hours from Chandigarh).
If you're one of those people for whom the idea of holidaying is driving not too far and finding a peaceful corner in the foothills of the Himalayas, where you can spend a day or two with your friends/family, Barog can be a great destination. But you're looking for a big happening place, with things to see locally, you may want to drive a little further (perhaps in the same direction) deal with overwhelming traffic, and explore Chail or Kufri or Shimla!
And here's the video of my Delhi to Barog ride…
Have you been to Barog or heard of it before?