So this time in 2019, the Ardh Kumbh Mela took place in the historic city of Prayagraj (formerly known as Allahabad) and on the very first day of the event, nearly 1.5 crore pilgrims ended up in the city, wanting to take a dip in the sacred waters of the Saraswati River.
But the question is, in a city of 1.2 Lakh people, if over 1.5 crore visitors would end up in a single day what are the chances of getting a comfortable stay or even managing the transport (to Prayagraj) at first place.
Well, I visited the Kumbh Mela on the very first day of its start and stayed there for a couple of nights, in the tent-city, close to Triveni Ghat. It was an experience unlike any other, especially for someone who isn't a big fan of visiting crowded places. To me, the place did not only feel overwhelmingly overcrowded but also lacking the infrastructure in catering to the needs of the visitors. Public toilets were overflowing, roads were jammed, and most of the places were overcharging for their services. I could feel more confusion and filth around me than spirituality and religion.
Though it is possible that the daily inflow of tourists may decrease in the coming days, as the first day marked the auspicious Makar Sankranti and one of the three 'shahi snans' for this year's Kumbh Mela, even if it did, I wonder what comfort it will bring to the visitors. As with each passing day, the condition of the budget accommodation, of public toilets, and the tolerance power of the staff hired to keep public areas clean will keep decreasing too.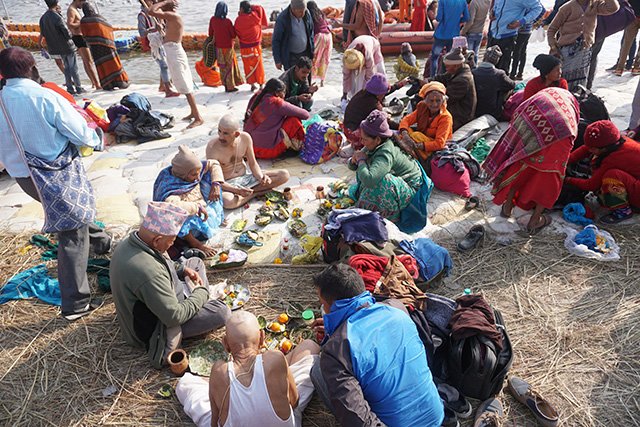 So before I go ahead with my Kumbh Mela Travel Guide, let's ask us the most important question…
Should You be Visiting The Kumbh Mela In Prayagraj
In one sentence, if you're truly religious and believe that a dip in the Sangam will make a difference in your spiritual life, you should visit the Kumbh. But if you are visiting with the idea of holidaying or experimenting with spirituality in India, you may just end up complaining more about the place than actually exploring it and enjoying its good tidings.
Other than highly religious people, those who can afford a 10,000 Rupee per night tent (with all amenities like running water and good service) or those who don't mind handling a little filth of shared Indian toilets can also visit the Kumbh Mela with no problem.
But if you happen to be the average middle class Indian, who certainly cannot afford a 10,000 Rupee glamping night yet expects a clean and a comfortable stay; who enjoys exploring the unsung valleys of the Himalayas than the crowded Indian towns; and for whom the complexities of the ancient Hindu religion is just as unimportant and unexciting as the long-forgotten caste system is, then forget about the Kumbh.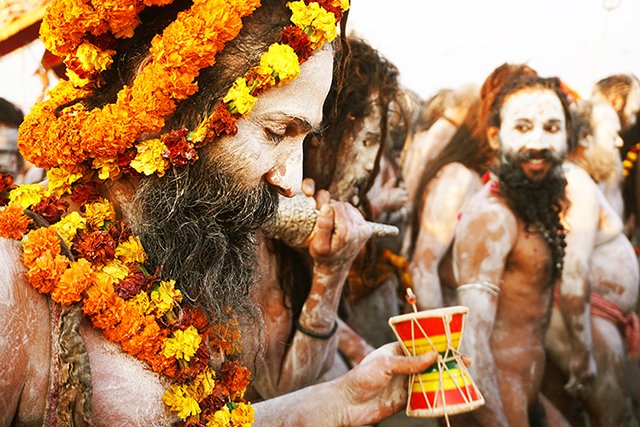 To make the decision easier furthermore, let's talk about the different accommodation options Kumbh Mela 2019 in Prayagraj offers.
Where To Stay In Kumbh Mela Prayagraj
Luxury Accommodation in Kumbh Mela : If you decided to go for something luxurious, be known that a two-days/one-night package of the luxury tents is priced around 12,000 Rupees per person, with something more superior costing a whopping 20,000 Rupees per person on a twin-sharing basis. 
A six-days/ five-nights package in the super-luxury tent can cost over 1 lakh Rupees per person.
But yea, such an arrangement will offer everything you may need for a comfortable stay.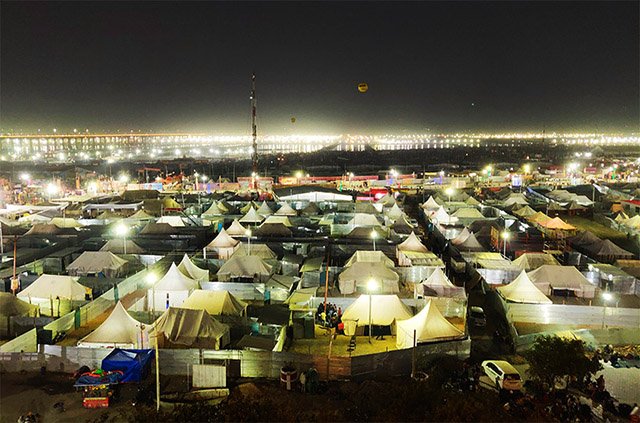 Budget Accommodation in Kumbh Mela: If you're looking for something on the lower end of the spectrum, you can choose a guesthouse for nearly 3000 Rupees per night. The room will be very basic but have a private toilet. But unlike tents, most of the guesthouses, are located near the train station only, which is nearly 10 km (or a 300Rs auto rikshaw ride) away from Triveni Sangam.
If you want to stay close to Triveni and in a budget tent accommodation, you can get a bed in a 10-bed dormitory for nearly 1000 Rupees per night per person. And at such a price, comes the not-so-clean bedsheets and the not-so-clean (with no running water of course) shared toilets. Here's the phone number for Suraj Mishra, one of the people I met during my visit to Kumbh Mela who owns a budget tent accommodation. He may even arrange for something else. Number: 91-9839226134.
So now that you've decided what to do, and before I proceed with other information to help you make the most of your 2019 Prayagraj Kumbh Mela visit, let's understand…
The Significance of Kumbh Mela
To understand why Kumbh Mela happens at first place, let's go back in the time of Gods and Demons, before mankind existed, and look into the story of 'Samundra Manthan'.
A long long time ago, the Devas (or the demi-Gods) had a fight against the Asuras (or the demons) to take possession of the Amrita (the drink of immortality). During the fight, Lord Vishnu dropped the drops of Amrita at four places, namely Allahabad, Haridwar, Nasik, and Ujjain.
As Amrita fell, the land at the said four places became divine and blessed with the rivers at each of these places becoming blessed, and it came to a belief that a dip in these holy rivers would rid people of all their sins and help them attain moksha.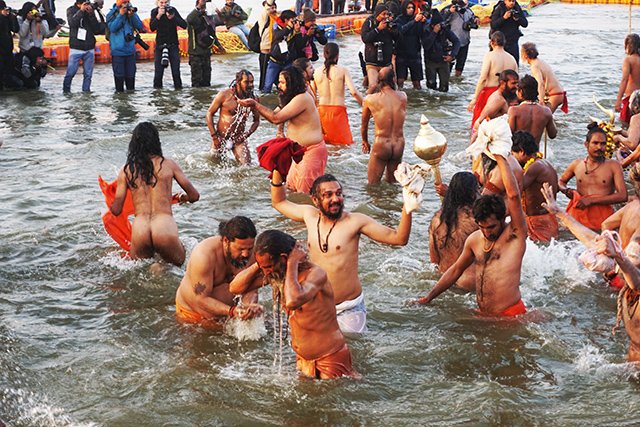 Since then, sadhus and the general public have been gathering there to take a dip around the auspicious dates starting Makar Sakaranti of each year. The gathering is so ancient that the exact date of its origin is unknown.
Maha Kumbh is celebrated every 12 years in rotation at Prayagraj (the confluence of Ganga, Yamuna and Sarasvati rivers) Haridwar (Ganga river) Ujjain (Shipra river) and Nashik (Godavari river).
Ardh kumbh is held every six years at only two places, either Prayagraj or Haridwar.
Kumbh Mela 2019 Prayagraj is the Ardh Kumbh. It kicked off on 15th January 2019 and will conclude on 4th March 2019. A whopping 150 million devotees are expected to become a part of this splendid fair.
When To Visit The Kumbh Mela In 2019?
There are five key dates for the Prayagraj Ardh Kumbh:
Makar Sankranti on 15 January (shahi snan)
Paush Purnima on 21 January
Mauni Amavasya on 04 February (shahi snan)
Basant Panchami on 10 February (shahi snan)
Maghi Purnima on 19 February
Mahashivratri on 04 March
And sharing my two cents from whatever little I know, you must visit the Kumbh on one of the shahi snan days. I visited the Kumbh on Makar Sakaranti shahi snan and it was an experience to not miss, should you decided to visit the Kumbh Mela. From naked Naga babas riding horses, to others smeared in ash, every sight was a colourful mix of people and events.
For photographers, shahi snan is a perfect opportunity as Naga babas come out in full force.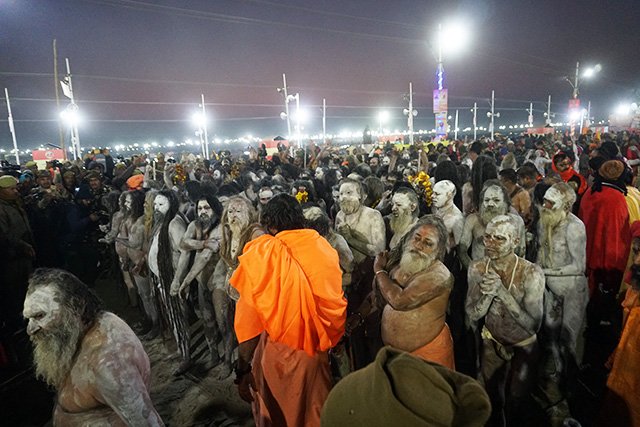 The shahi snan moreover mark for a very auspicious day for bathing in the Saraswati during the time of Kumbh.
Check out these Pictures of Kumbh Mela to find out what it's like to be visiting it on a shahi snan day.
So yea, if I were to suggest anything, I will suggest visiting the Kumbh Mela during one of the days of shahi snan. But do not end up in the city on the day of the shahi snan, as the ceremony takes place as early as 4 in the morning. And if you did so, you will find it literally impossible to get public transport and be left with no option but walking some 10km from the train station to Triveni Sangam. Be in Prayagraj a day in advance.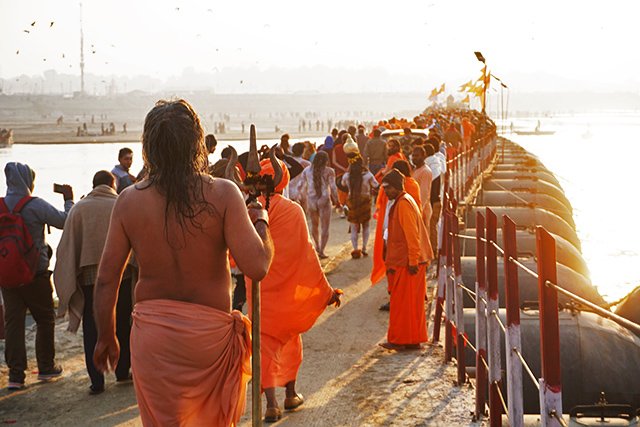 A 2-Day Travel Itinerary For Kumbh Mela Prayagraj 2019
Here is how I suggest planning a visit to the Prayagraj Kumbh Mela. Where most people arrive in Prayagraj in the morning and leave on the same day in the evening, I suggest staying for at least one night to be able to visit the Akhads and interact with Naga Sadhus (even if you're not visiting on the day of shahi snan). This Kumbh Mela travel itinerary includes activities beyond just taking a dip in sangam and leaving.
Day 1
Arrive in Prayagraj in the morning and find a place to stay.
The tent city is located at around 7km from the Allahabad train station, after crossing Shastri Bridge. To get there, you can either take an autorickshaw or a free shuttle bus. Find a place to stay and dump all heavy and expensive stuff there.
Walk to the main ghat and see where all you will get access on the main day. Just walk around the Triveni Sangam area.
Around sunset, a boat ride in the Sangam is a great thing to do. If you have time, you can also visit the famous Allahabad Fort.
Take pictures, plan and more importantly soak in the space.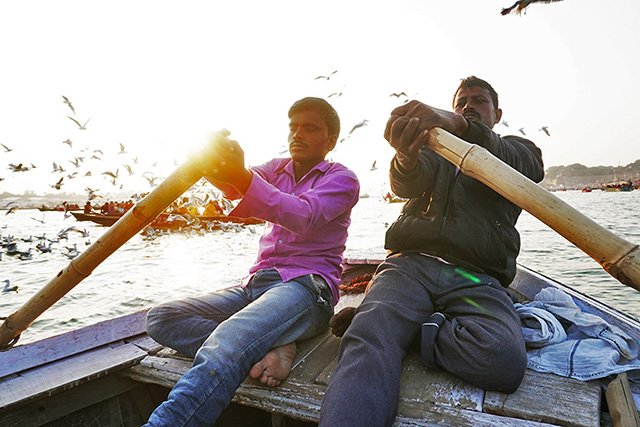 Day 2
Wake up around 3 in the morning and leave for Triveni Ghat to attend the ceremonies. It is good if you have figured out the path of the procession the previous day. If not, just follow the crowd and you should be okay.
It's a huge area and it's good to go early and know all about it – also figure out the path of the procession.
If you also want to take a holy dip, leave your belongings behind or with a friend. There are going to be hundreds and thousands of people crammed in a very small area. Pushing and pulling are going to be very rampant.
The entire shahi snan ceremony will finish at around 10 am, with langar being served after the shahi snan. It is totally okay to click pictures of Naga babas or of anyone else.
If possible visit the tents where the sadhus live and interact with them.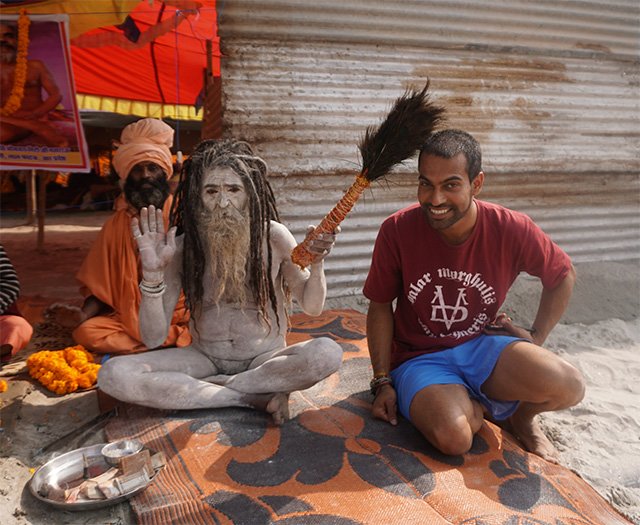 Useful Tips For Kumbh Mela 2019
Interact With Sadhus Attending The Kumbh: The best way to experience and enjoy the Kumbh Mela is by interacting with sadhus. As per my experience, pretty much every sadhu or a member of the general public visit Kumbh with a good mood and consider it an auspicious occasion. So just go with the flow, and try to interact with others. Visit an Akhada, get yourself clicked with Naga babas, and indulge in a conversation.
Carry Essentials: Day time in Prayagraj can be quite sunny and warm. So carry your essentials like a sun cap and a bottle of water, other than a light jacket too if you're planning to continue your stroll after sunset. Nighttime in Prayagraj see a sudden dip in temperature.
If you're staying in a budget tent accommodation, make sure you carry sanitizer. Taking a private bath won't be possible and your only option will be taking a dip in the Sangam, so be prepared for it. The toilets may look filthy and since there's no running water in public toilets provided by the government, cleaning yourself can be a problem. Plan accordingly!
Take A Dip In the Sangam: I know the water at the Sangam will look dirty, I will still suggest getting in and taking a dip. I did and it was a great experience.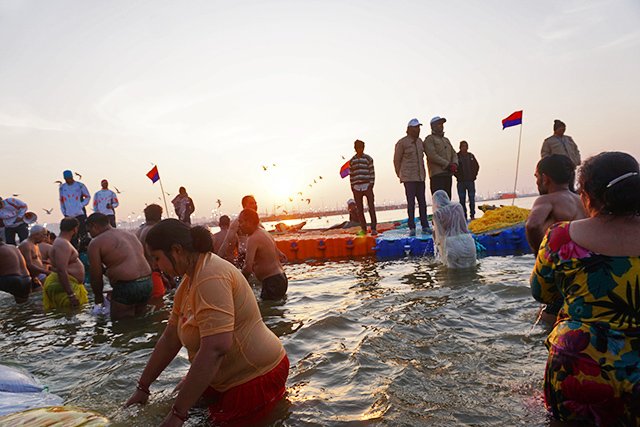 Get Lost In The Tent City: The tent city in Kumbh Mela is full of small bylanes with something happening at every corner. Visit a satsang, attend spiritual talks and be a part of local games. Just don't stay in your room or the tent, wander around. Get lost on purpose.
Women Travellers: As a woman, be careful about what you wear. Always cover your shoulders and knees. Do not go into the Naga baba akharas, unless you take permission from them in advance. These men are celibates and the distraction of women is forbidden.
Have you been to Kumbh Mela? How was your experience?