Before anything, I confess that Vienna wasn't on my original travel itinerary for Europe. Its 'old people city' charm was, in fact, the demotivation. I mean why would a 20-something solo traveller want to visit a European town where all he can expect is an overdose of imperial grandeur of the Habsburg-era.
But as an invitation from ViennaTourism landed in my inbox, recommending me a ballet performance and a guided tour in world's one of the historical and most reputable horse riding schools, I thought, "Why Not!" The next thing I remember was booking a whirlwind trip to Vienna (after quickly skilling through Prague in one day) — and spending three days just wandering around its many royal and imperial streets. It turned out that walking around the city was one of the best things to do — because Vienna is drenched in incredible architecture.
And now that I've concluded my visit to this royal city, I thought of putting up at least one picture post on Vienna where I can tell some stories via pictures. So here we go…
My first impression of Vienna was of a combination of Old and New. New, for its modern shopping areas that appeared to be sneaking into every neighborhood of the city.
And old, because of its jaw-dropping architecture, springing up from everywhere; and the many horse carriages, adding up to its imperial charm.  Vienna was, indeed, a great way to travel back in time, without having a need to actually travel back in time.
Contrary to what I imagined, I found out that there is a new energy flowing through the city. Though it's true that Vienna is still alive in the new and renovated museums, it was definitely something more than an 'old people city', as is often regarded. Vienna surprised me with its young and hip side and vibrant culture while keeping a perfect balance with its generations-old history.
But as I said, the city is still dominated by its centuries-old architecture, which means that the restoration work here never stops. Visit Vienna any time of the year, and you may find some of its architectural buildings closed for restoration, while others, getting minor repairs during public hours.
Out of all its architectural marvels, one impressive building is the Austrian parliament, which breathes history and stories, art and noble architecture. It is interesting to note that the construction work for the parliament began in 1874 and took a dece before it was completed in full in 1884.
Another interesting thing about Austrian Parliament is its Greek styled architecture, given by its Danish origin architect Theophil von Hansen, to reflect the idea of law and freedom and other relevant concepts popularized and/or developed by the Hellenic culture.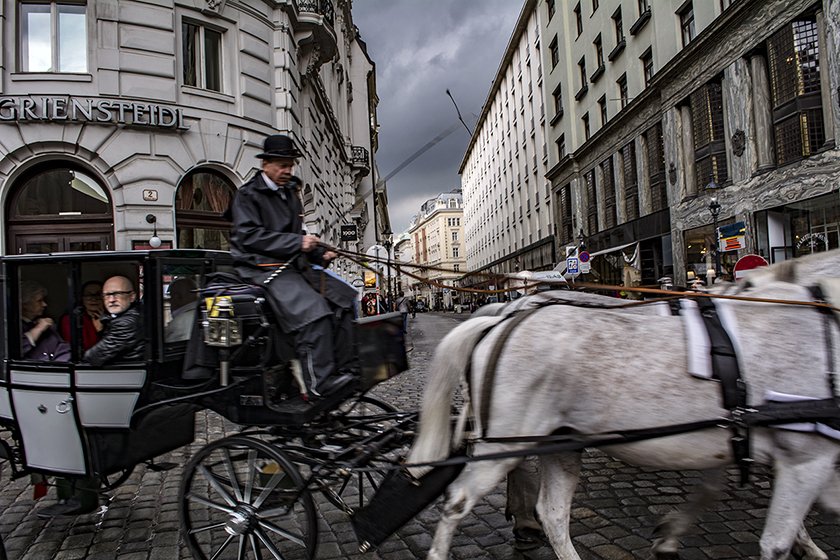 Horse driven carriages, are, just as much a part of Vienna as the many historic building and tourist attractions like St. Stephen's Cathedral, or the Giant Ferris Wheel. For a tourist, a ride with the two-horse carriage can be one of the highlights. Because at least, from outside, there seem to be no royal way to explore this tiny beautiful city, then from inside a horse carriage.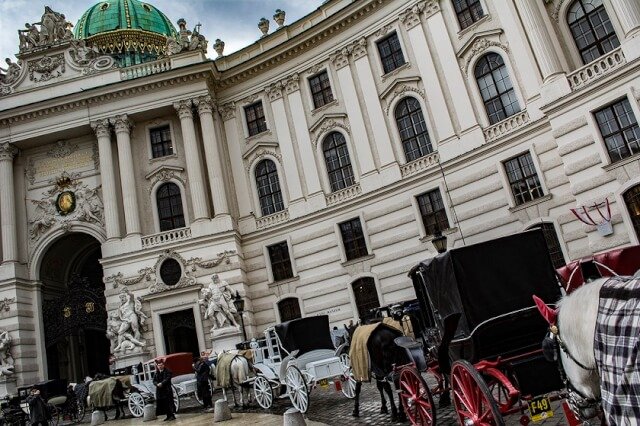 And to get the maximum number of options, and a carriage of your choice, go to Michaelerplatz — situated right opposite of the Spanish School of Riding.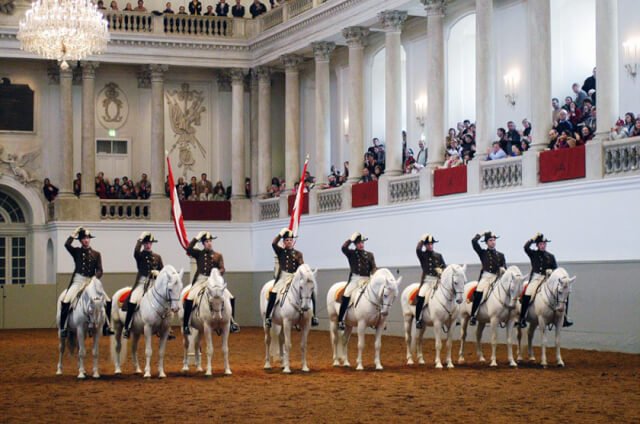 Speaking of Spanish School of Riding, in Vienna, it is the only institution in the world where the classic equestrian skills (Haute école) has been preserved and is still practiced in its original form. The school has been training horses and riders since it was established by the Habsburgs, back in the 1500s. For the public, the school offers a 2 hour morning exercises sessions, and a guided tour right after that.
The tramway network in Vienna (Straßenbahn) is one of the longest in the world. It has more than 30 lines and some of them have some underground stretches. But among all, lines 1 and 2 are the most useful for tourists, because they take you around Ringstrasse, and make some stops by emblematic buildings like the Opera, Hofburg Palace, the Parliament or the Stock Exchange building.
As seen from Rathausplatz, right across the street (on Ringstrasse) is the popular Austrian National Theatre called Burgtheater, which is regarded as one of the most important German language theatres in the world.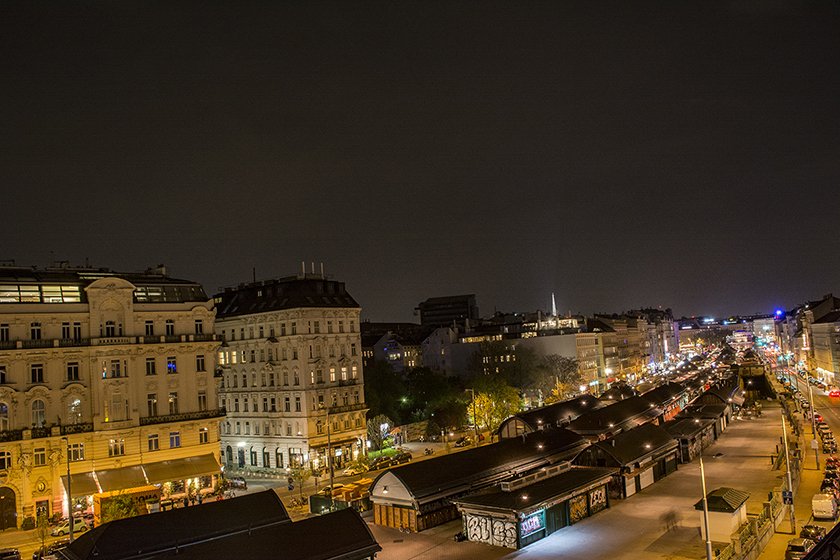 The popular street food market of Naschmarkt, as seen from my hostel lobby. The entire half a kilometer stretch of food stalls (the small black huts as seen in the middle of the road), is a culinary experience featuring many different regional cuisines, selling Kebabs to Indian spices to various cuts of fresh meat. If you're a budget backpacker like me, it's a nice place to get ingredients for whatever you come up with in your hostel kitchen.
A typical fruit and vegetable stand in Naschmarkt.
And an hot-dog or a burger stand, for a quick meal…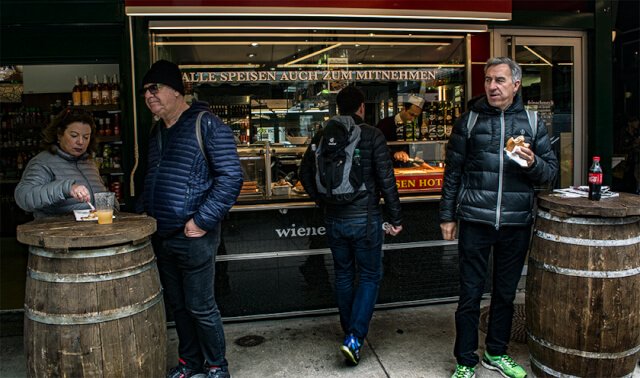 Street food is on the tip of everybody's tongues today, as so is the case with Viennese. Thanks to the many sausage stands, known as Würstelstand, dining on the fly is so easier and accessible in Vienna. These sausage stands that are now part of the cityscape, have moreover been always a Viennese culinary trademark.
Vienna is also, almost always, buzzing in the nightlife, which can be found in an array of eclectic spots around the city, from decommissioned subways, boats on the Danube, or from somewhere high above that offers a million dollar view.
Further Reading On Vienna: How To See Vienna On A Budget