Try target shooting tour in Bratislava – one of the most offbeat things to do there.
I don't think I like guns. I mean how can anyone like those dangerous chunks of metal, that are designed for nothing but killing people? But since I wanted to try something offbeat in Bratislava, I came up with the idea of a target shooting tour in Bratislava.
After all, you do not get to travel to land, every now and then, where shooting, as an activity, has quite a charm.
So I thought, "why not".
---
Before you read further, please leave all your prejudices behind, and try to absorb the article in the form of just an offbeat thing to do in Bratislava. No one is hunting people here!
---
I think guns were destined to feature somewhere in my India-to-Europe tour. Because while planning my 2 month backpacking trip to Europe, the last thing I thought of was doing a target shooting tour in Bratislava.
But as I said above, you don't get a chance to do something like this everywhere, and hence I did it.
So yea, shooting a Kalashnikov in Bratislava, was high on my list, especially because I was one of those people who had never had a chance to hold a loaded gun in their life before.
Also Read: Getting Robbed In Bratislava.
The entire target shooting tour in Bratislava included 20 shots with an AK-47 Kalashnikov rifle and 20 shots with a Skorpion vz. 61 (UZI-style submachine gun in semi-automatic), 10 shots with a shotgun and 15 shots with a Glock 17 pistol — the kind of guns that are pretty hard to legally play with, anywhere else in the world.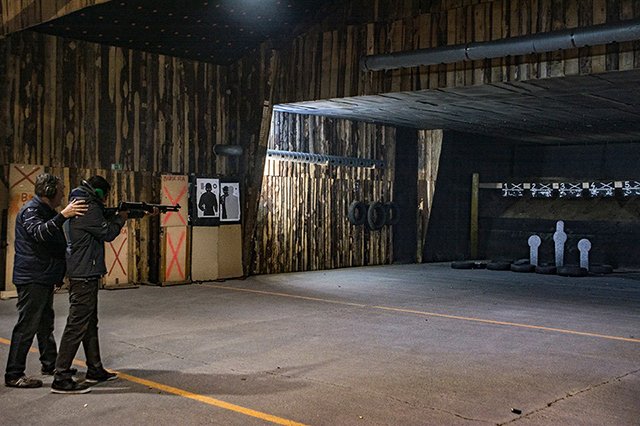 Bratislava Target Shooting Tour
The tour guide started off by taking the guns out of the handgun cases and showing me the basics of shooting — right from how to handle a gun to the safety hazards. Though to a newbie, it all made little to no sense at all, and the rules were just too tough to comprehend anyway, except for the basic understanding of the fact that never, under any circumstance, point a gun to a person or to your feet, particularly if it's loaded.
The shooting arena of my Bratislava target shooting tour had a supervisor load the guns for me while making sure I do it safely.
I was given headgear to protect my ears since guns can be super loud.
The best part was, the guns were not mounted, giving me a real feel of holding and firing them, as a hitman would otherwise do (just kidding!).
I remember it was a pretty scary feeling before I had the first shot of my shooting tour in Bratislava with the pistol, before moving next to the AK-47. But soon as I pulled the trigger and (almost) hit the bulls-eye the adrenaline started settling down and confidence started booting up.
As I shot the AK-47 in Bratislava and the deadly shotgun, I had some reminiscent thoughts of playing 007 as a video game.
This was a childhood dream that I think most guys will understand.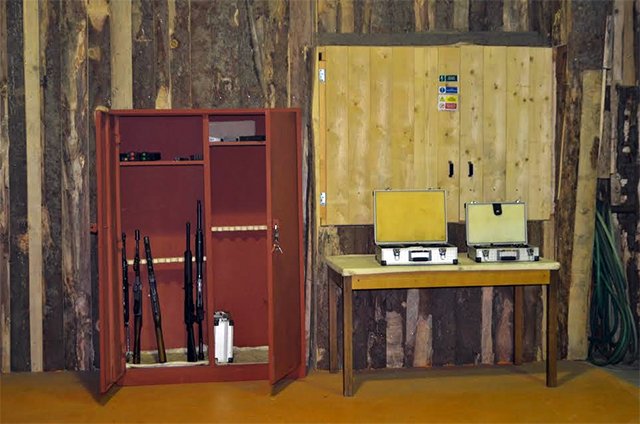 Some Factual Information
Shooting as an activity is one of the most offbeat things in Bratislava, as visitors from Western Europe do not have access to military weapons in their home country. So shooting a Kalashnikov rifle or Skorpion submachine gun is kind of exotic for them.
If you're a total novice with guns, it should be no problem, as long as you can see through your eyes and lift a kilo or two in your hands. As mostly misunderstood, shooting these guns (even the AK-47) does not backfire much, which means there should be (almost) no terror in your mind that something utterly wrong can go during the practice — as long as you are not under the influence of any intoxication and are ready to take the lessons carefully.
It is also important to mention you should always have a secure case for your handguns.
The cost of a guided tour (with a pick-up and drop from your hotel in Bratislava) that comes with a shooting of the same set of weapons I've mentioned above, costs 79 EUR per person for groups of at least 10 people and goes up to 109 EUR per person for a group of 2 people, or 149 EUR for a solo-traveller. However, other packages with more or fewer weapons are available for a different price.
I booked my target shooting tour in Bratislava with a company called Bratislava Shooting Club.