Walking along the far side of the glittering Main River, I heard a song-like melody coming down my way. I did not see her face, as she went past me, in the same direction, but her humming sounded much familiar. Every sound she made with her flawless throat felt hear-soothing. Perhaps I was overwhelmed by the moment. The magic of the riverside Frankfurt had totally overpowered me. Love was in the air!
The next thing I know is that I go on a boat tour down the Main River. I sit next to the window, staring out the window as if almost meditating, while the larger-than-life landscape slowly passes by.
Frankfurt, at large, appeared to me like a small village with a "touch of the city", and that's what it is. It's one of those remarkable places in the northern hemisphere with a metropolitan, yet a relaxing flair. People were busy living their own personal lives, unknown to any intrusion.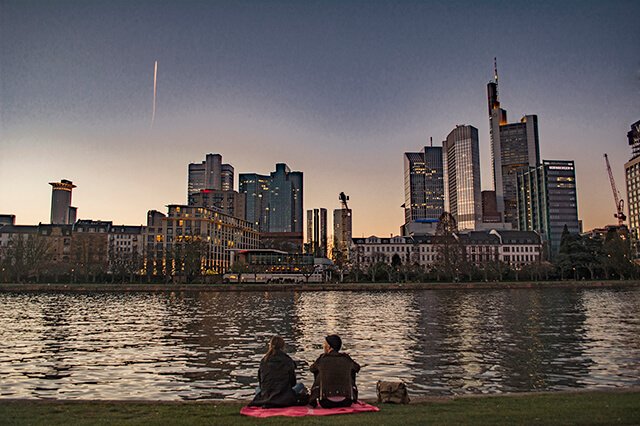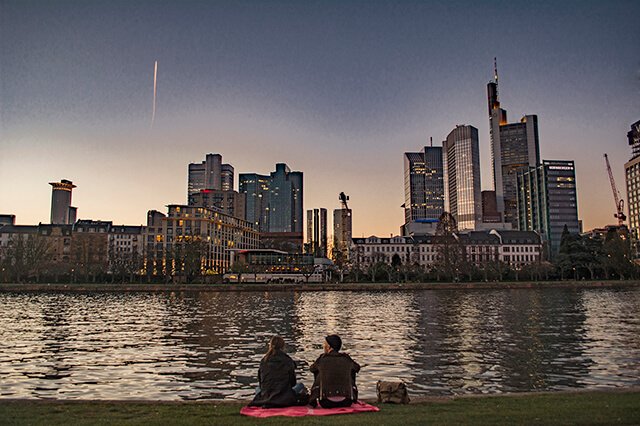 'Frankfurt am Main', more commonly known as Frankfurt, has indeed come a long way since its foundation in the 1st century. Today, the city might just appear to be one of the largest financial centres in Europe (which, in reality, it is), home to a number of national banks and stock exchanges, but there is more to the city than money and business, however.
The Many Green Spaces
Frankfurt is not only a cosmopolitan city, with Germany's most elegant skyline; it is a green city too. And perhaps its 200,000 trees tended across the city's many streets and public areas justifies that fact. Of the total city area, over 50 percent comprises open spaces and water. There is a fair share of green shade for everyone.
I particularly loved The Chinese Bethmannpark and Koreanischer Garten with their traditional ponds, pagodas, and perfect little gardens, offering a very chilled environment for visitors.
"In silence, one finds the strength to new thinking," reads the calligraphy on a panel at the water pavilion inside the Bethmannpark. The exceptional complex Bethmannpark, as soon as you enter, moreover exudes its tranquillity and aesthetic appeal on you. You feel a kind of meditative calm and inner harmony.
Romantic Riverside Strolls

Enjoying the evening strolls alongside the glittering river of Main, was perhaps one of the highlights during my time in Frankfurt. As the sun goes weary, and the buildings light up with their own colorful artificial light, things, around the Frankfurt riverside become even more dramatic and far more surreal. For example, this coffeehouse on Frankfurt riverside, glittering in romatic yellow.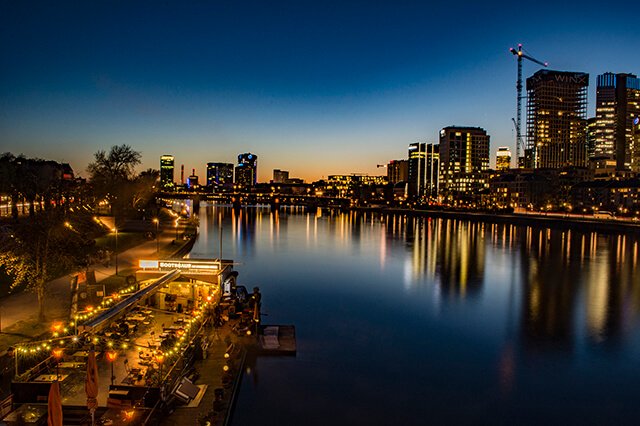 People with a mix of races and cultures fill the space, with some taking a stroll on either side of the river Main (as often was the case with me), while others sailing through the water.
And that's the thing about Frankfurt, it's not only vibrant but also very diverse in cultures and nationalities, compared to other parts of Germany I visited (limited to the western belt so far). You can expect to find a very diverse array of restaurants and expats from all over the world, representing all social classes.
A Glittering Skyline
No wonder Frankfurt can keep up with the list of cities with most beautiful skylines. With more than 30 buildings higher than a hundred meters, including the Europaturm, Commerzbank Tower and Messeturm – the city's towering skyline is one of its highlights offering an ever impressive sight to behold.
Though the buildings look no less elegant and dominating throughout the day, their authority looks even more charming after sunset (or before sunrise) as they slowly light up to life, giving a shade of red and orange and blue in the river Main. And the Eiserner Steg pedestrian bridge, which connects the city's Römerberg and Old Town on the north flank and Sachsenhausen on the south flank is perhaps the ideal place, to explore it.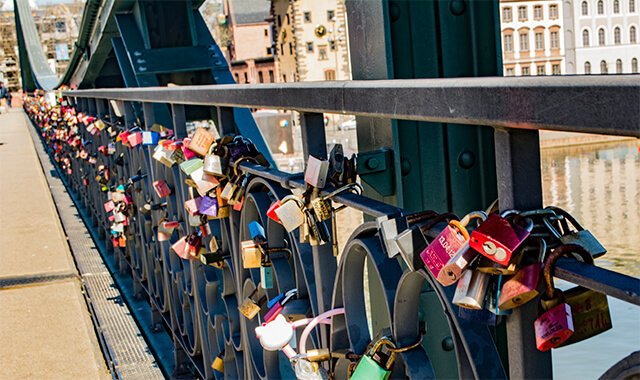 What makes Eiserner Steg even more interesting is its clusters of love-locks hanging from the bridge structure. Whatever your opinions are about these love-locks, to me, they made a great compositional feature.
The Old Town of Altstadt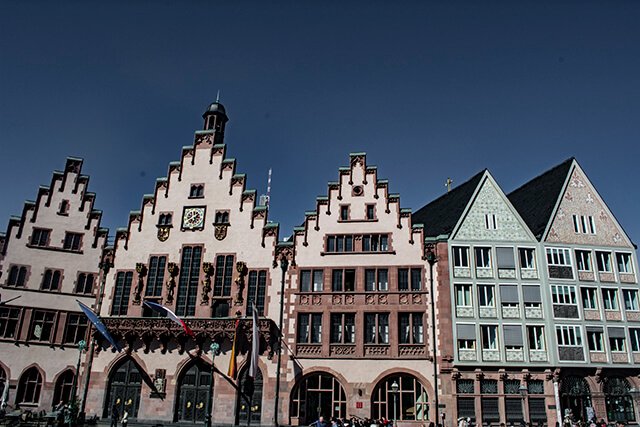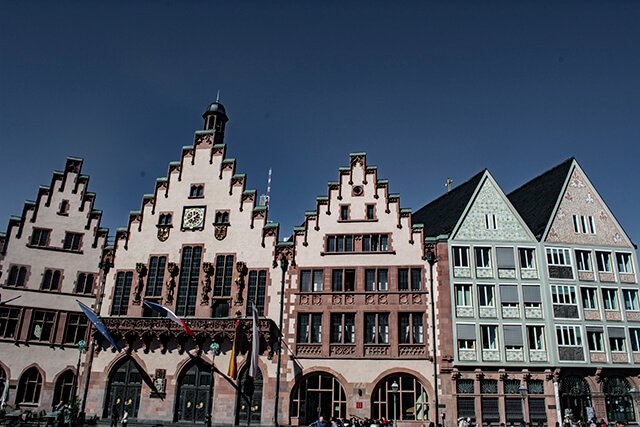 Though the historic old town of Frankfurt was largely destroyed by the air raids during the Second World War, the many prominent streets and the entire district of Altstadt, Frankfurt, after its restoration work, still looks just as beautiful and charming as ever.
Totaling some 7,000 square metres of area, the new version of the old town, with its many small shops, restaurants, plazas, and the cobbled laneways winding through its core can still take you back in a time of middle age, when the city was still home to Germany's largest timber-framework. And this particularly applies if you're standing while facing the Römer – today's city hall.
The Old School Bikes And The Colorful People
Though it may not be something to explore, but rather feel, I heart Frankfurt more than most of the modern cities (I've explored in my life so far), and adore it, because of its larger than life perspective. People in their business attire chasing down the streets, on their rented old school bikes, makes Frankfurt just too colorful and far practical.
Although Frankfurt is nowhere near the top bike-friendly cities in the world, the fact that the city, on one side preaches a pacey metropolitan lifestyle, yet follows an eco-friendly and a relaxing flair on the other, is surely something to adore!
So whether you're into outdoor activities, architecture, or romantic riverside experience, be rest assured that Frankfurt has enough to see and do for people of every taste. For those staying in Frankfurt for a few days, there are many day trips possible too, including a day trip to Heidelberg.
And now, a few more from shots from the beautiful Frankfurt city…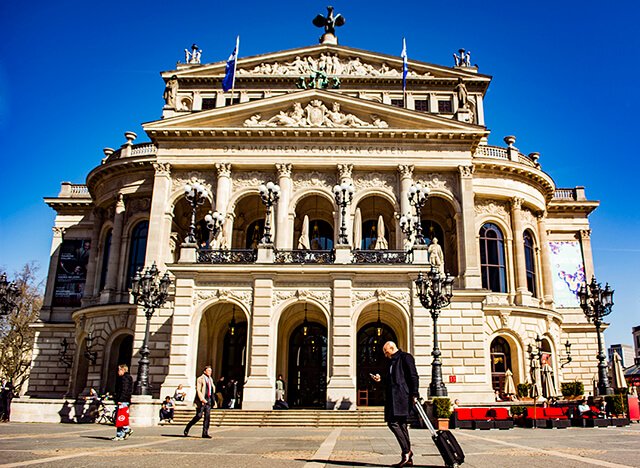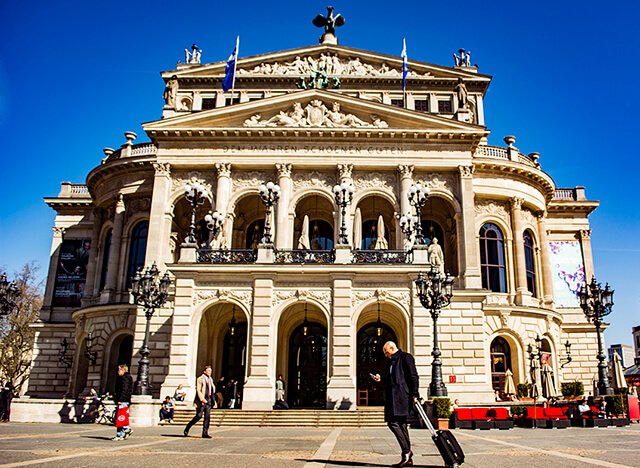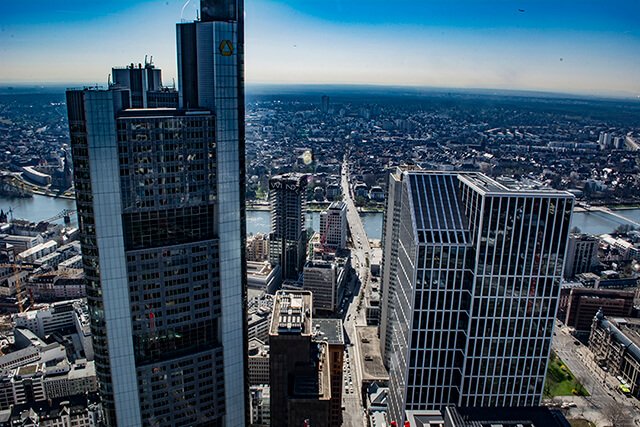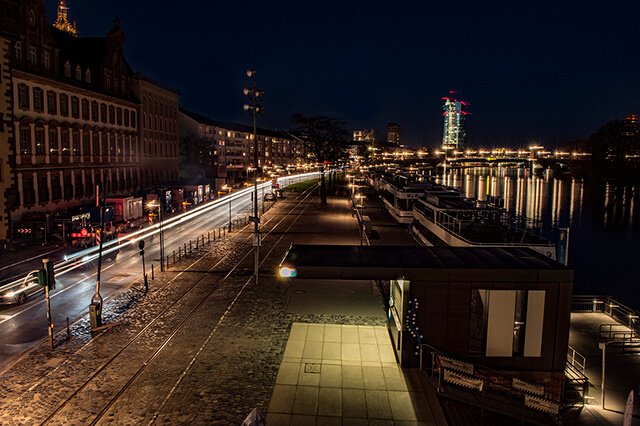 Have you been to Frankfurt too? How did you like it?
I wrote this post as part of the #VisitFrankfurt campaign with Frankfurt Tourism. Though my trip to Frankfurt was hosted, all recommendations ideas are solely mine. I only recommend what I really love and see.