For nearly all tourists visiting Dharamshala and Mcleodgunj, the Triund trek remains a must-do. It is one of those popular places in Himachal Pradesh that you will find on most tourist's wishlists.
"You have been to Dharamshala so many times and never did Triund trek?" I remember my friend being flabbergasted when he realised how despite being to Dharamshala about a dozen times I never visited Triund Top. "I find it too mainstream," I replied in my defence.
But this time, in December 2020, as I spent a week in Dharamkot (also known as the Mini Israel of India), I decided I was going to do it. To make it more exciting and not feel that I am following the crowd, I decided to do it in as little time as possible.
"How long does it take to do Triund trek?" I asked the manager at the hostel I was staying. "Most people do it in 4 to 5 hours," he replied. "How long will you take it if you were to do it in the least possible time?" I asked.
"1 hour 30 minutes"!
And that was it! The challenge was taken!!
The next thing I knew, we (me and Sanjeev — the same property manager and now a good friend) pushing ourselves to do Triund trek in under 1 hour and 30 minutes.
Triund Trek
One of the popular treks in the state of Himachal Pradesh, it can be counted amongst the easiest Himalayan treks too. With breathtaking views of the adjoining Kangra valley (that connects Kangra to Dharamshala) on one side and the snow-covered Dhauladhar range on the other, it is also quite picturesque.
On the way, trekkers come across a number of cliffs ideal for Instagram's perfect spots.
Triund Trek is ideal for those who are seeking a hassle-free taste of trekking in the Himalayas. No need to hire a guide or look for a trek-buddy, just do it solo. The trek is, moreover, well-marked.
It is possible to travel all the way from Delhi or Chandigarh and do it over the weekend.
The trail to Triund is short (about 9km from Dharamkot, or 11 km from McleodGunj) but quite steep. On the way, trekkers come across rhododendron and oak trees with a few maggie point too to buy refreshments.
Given the fact that the trek is quite easy and popular, there are a large number of trekkers attempting it, particularly on weekends making it difficult to enjoy the serenity of the place. Therefore, the best time to do Triund trek is during the weekdays and during the non-peak season. On a normal day, it is possible to find hundreds of trekkers making their way or coming from the Triund Top.
The town of McLeodganj also provides for a great opportunity to experience the culture of Tibetan migrants in India.
How Long Does The Trek Take
For most tourists, it takes about 4 hours to reach Triund Top (from the town of Dharamkot, add another 30 minutes for Mcleodgunj to Dharamkot).
I, however, did it in 1 hour 30 minutes from Dharamkot, without making any stops. Let me also mention that I never ran during the trek but only walked a little faster than most tourists do.
Locals guides can do Triund trek in less than 50 minutes. I met someone during my trip who claimed to have done it in 45 minutes. The person was a local guide too.
So yea, considering you're not an avid trekker and are going to take a few photo-stops, it is going to take 4 or 5 hours. It is therefore advised to begin from Dharamkot no later than 9 am. The earlier you start and the earlier you reach the top the more time you will have to enjoy on the way and still return in time.
Technically, the return journey takes almost half of the total time taken to reach to the top.
Where Does Triund Trek Begin From
From the town of Dharamkot. Dharamkot is located at 2km from McleodGunj and about 4km from Dharamshala. From Dharamkot, it is quite easy to spot the way.
Trekkers start their walk from Zostel, Dharamkot (easy to Google Navigate) from where they reach Gallu Devi Temple (about 800m from Zostel). Right next to Gallu Devi Temple is Triund Trek Checkpoint.
The forest officer, at the checkpoint, makes sure trekkers are not carrying any plastic, drugs or alcohol.
Please note that the last time to check-in at the checkpoint is 11:30 am. There are a few other shortcuts to avoid the checkpoint but they're not advised to be taken.
How to Reach Triund Trek
As mentioned above, the trek begins from the town of Dharamkot.
There are regular buses (ordinary and luxury Volvos both) from all major towns like Delhi, Chandigarh and Amritsar to Dharamshala-Mcleodgunj. From Dharamshala/Mcleodgunj, it is easy to find shared and personal cabs for Dharamkot.
For those who are self-driving, it is an easy two and a half-hour drive from Pathankot, in Punjab. The road remains pretty good in shape throughout the year.
For those who are travelling in winter and worried about driving in snow, let me tell them there's no chance of finding snow until Dharamshala. From Dharamshala to Dharamkot (6km) it is possible to find patches of snow and a bit of slit on the way. The entire Triund trek, moreover, gets about 1-2 feet snow in winter (particularly between January and February). Trekking in winter is very different from that of trekking in summer.
It is possible to find hotels (of every budget) in Dharamshala, Mcleodgunj as well as Dharamkot.
Is Triund Trek Open in July and August
Yes. It remains open the entire year, however, trekking during monsoon months of July and August is not really advised. Not only the route becomes slightly dangerous it is no fun either.
As far as the question of closing and opening of Triund trek is concerned, be known that it remains open throughout the year, it's only the matter of convenience and preference (of the weather).
As long as you're crossing the checkpoint at Gallu Devi Temple before 11:30 am, you're good to trek 365 days of the year.
Best Time To Do Triund Trek
The best time to do it is between March and June, and September and November. Many trekkers prefer trekking during winter months too because of snow.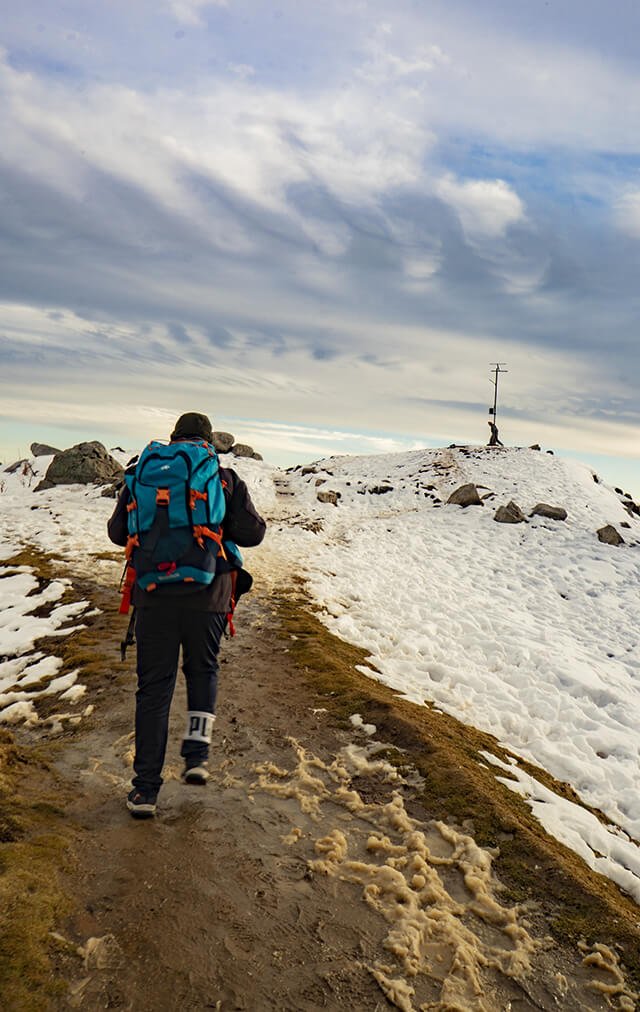 What Makes It One of The Popular Treks In Himachal
I think the fact that one doesn't need to trek for days (unlike with many treks in Kullu-Manali region) here, tourists can enjoy the idea of being on top of the world in just a matter of 4-5 hours.
The top point gives tourists a sweeping panoramic view of Kangara valley with Dharamshala, Mcleodgunj and Dharamkot being clearly visible on one side. On a clear day, it is possible to see as far as the international cricket stadium (and much beyond it) in Dharamshala.
It is also possible to see Moon peak, Indrahar Pass, Rifle Horn and Arthur's seat in the opposite direction.
What To Expect On The Way To The Top
A lot of beauty and cliff stones for Insta-perfect photos. A part of the trek also passes through the pine forest — the cliched Himachali landscape. During Spring and Summer season, trekkers also enjoy rhododendrons in their full-bloom.
In short, Triund trek can be described as 'starting from a Buddhist town, trekking through a lush green forest and arriving at the end of the tree line — with a grand opening of the ridge'.
Sunsets are another reason to visit Triund for. It is because of the sunset that many trekkers also plan to stay overnight camping at the ridge. But those who choose to return also get to see the sunset (even if they miss it on the top and return a little early) at a few points on the way.
It is also worth seeing Dharamkot on the way back, after sunset.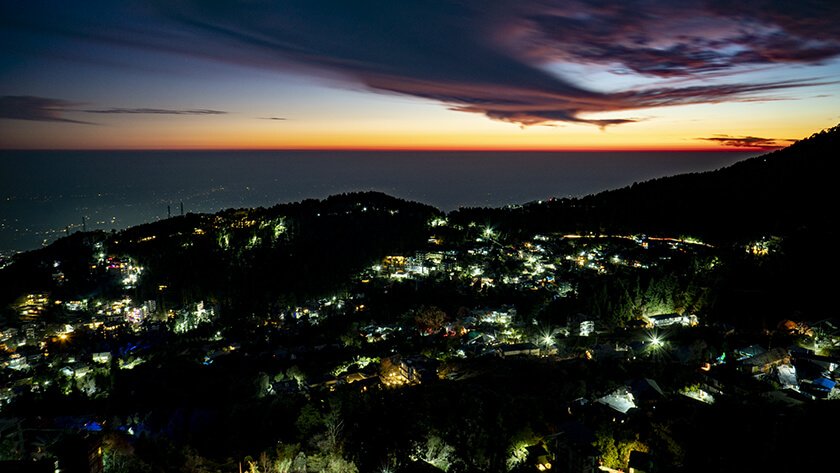 Useful Factual Information
Dharamkot is the base to start the trek of Triund.
It is also possible to start from Mcleodgunj as well as from Bhagsu village but the total distance will be a little longer, comparatively.
The trail from Dharamkot is, moreover, not only shorter but more picturesque too.
Here's what the figures say
Dharamkot to Gallu Checkpoint: 800 m
Gallu Checkpoint to Magic View Cafe: 2.70 km
Magic View Cafe to Triund Top: 2.10km
Total distance: 5.60 km
Total Time: 4-5 hours to reach the top. 2-3 hours to return to Dharamkot
Again, as mentioned above, start as early as possible so that you can spend most of the time of the day on the top. The first half of the trek up faces the sun. Though there are a few points where you can fill the water, it is still advised to carry a water bottle.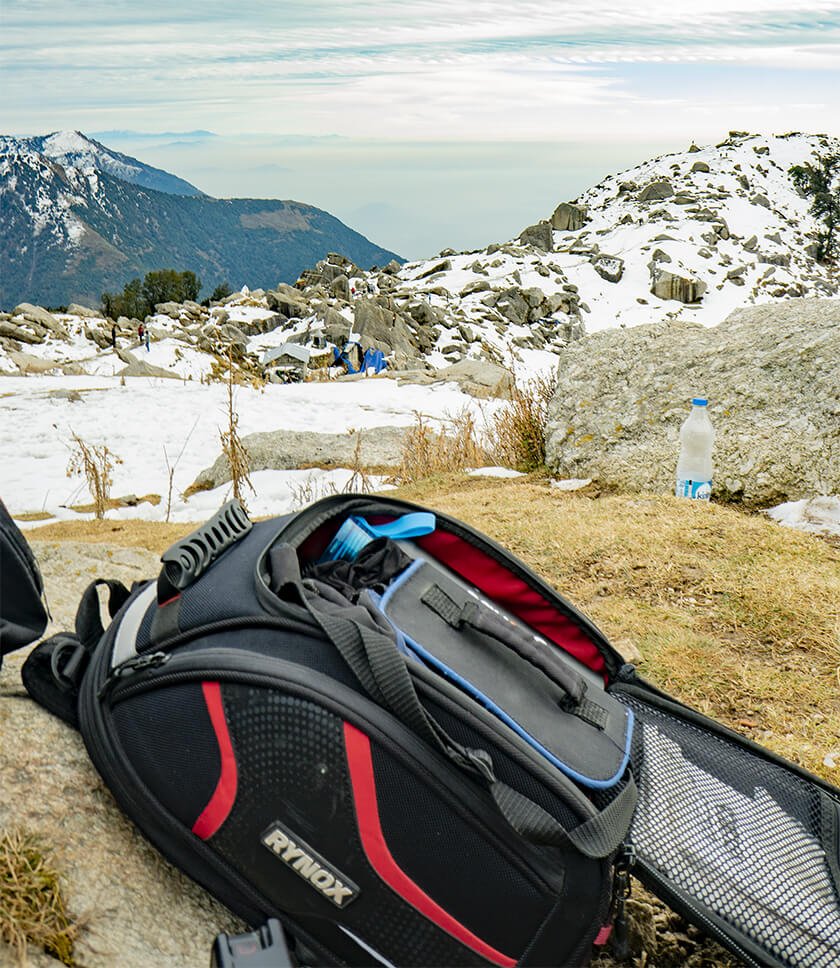 Carry a few eatables too if you don't want to spend 150 Rupees for a Maggie and 80 Rupees for a half-litre Pepsi. Almost everything is sold at double the MRP because those who are selling have to carry everything on ponies or by using human porters (and hence pay the extra price)
Please note that your backpacks may be checked at Gallu Checkpoint for the amount of plastic you are carrying and will be checked again while you return back. Ensure you carry them back and trek responsibly. Trekkers are often fined if found carrying any drugs or alcohol.
There are no charges to be paid at the checkpoint, however, your ID card will be asked for and your details will be logged into a book.
Please also note that it can be quite cold on the top, regardless of the weather, with high winds making it a little hard for most tourists to spend a lot of time in the open.
During the summer season, expect the day temperatures to be around 16 to 25 degrees on the way with the top point having around 10 degrees. During the night, it can drop to 5 to 8 degrees.
Between September to December expect the temperatures to start dropping. The day temperatures will be fairly pleasant with the night temperature dropping to as low as 1 or 2 degrees. Again, high wind makes the temperature feel a few degrees colder.
Useful Things To Carry
Unlike earlier, it is not allowed to camp on your own at Triund (though many trekkers still carry a tent, do it and risk being caught).
Earlier, when camping was allowed on top, it was necessary to carry a tent that can withstand high wind, in addition to a sleeping bag that can feel comfortable at 0 degrees. A light foam mat was also recommended.
Since there are no washroom or toilet facilities on the Triund trek, carry basic toiletry too.
Here is a more concrete list of things to take with you…
Trekking shoes: Even though it is an easy trek, it demands walking on a Himalayan trail. Having said that it is absolutely necessary to wear comfortable trekking shoes. I'm currently writing a detailed guide on how to choose the right trekking shoes.
A Small Backpack (20-30 litres): A backpack with sturdy straps and a supporting frame. Rain cover for backpack is essential. Carry essentials like a few energy bars, a water bottle, shades and other things of personal necessity.
High-Altitude Medication: Though Triund Top is located at only about 2800m above sea level if you feel dizzy and breathlessness on high altitude and windy areas, carry an Acetazolamide.
A Windcheater or A Light Hoodie (in summer): Since it is cold and quite windy on the top please carry something that you can wear on top and not feel dizzy. Oxygen level on top can also be a little
Woollens (in winter): In winter, the temperature during day time can feel less than 10 degrees in Dharamkot. On Triund Top, it can be about 0 degrees. So carry enough woollens.
Other Necessary Accessories: Sunglasses, a suncap, hand gloves, Balaclava, a headlamp (if you intend to see the sunset), a trekking pole (for first-timer trekkers).
That's all in the travel blog on Triund Trek. If you have more suggestions to add, please leave a comment below. If you have any questions to ask, please connect on Instagram.