Planning a road trip in Nagaland? Here are the top tips from my driving experience from Dimapur to Kohima to Hornbill Festival.
Those having even a little idea about how I like to travel may well know that I have never been a group traveller, and when my travels are complimented by the comfort of exploring places on a guided tour and in a private car, things become even more uninteresting. But ever since I had a motorbike ride in Jammu with 60 other riders, I've discovered a completely different part of me — a part that occasionally enjoys the company of fellow-travellers, a part that sometimes appreciates the comfort of having a private vehicle.
Overpowered with 'that other me' when an invitation with Datsun India, for a few days of drive in and around Kohima, in Nagaland, landed in my inbox, I said 'why not'. And the next thing I knew was I was flying from New Delhi to Dimapur, with three other bloggers to explore Kohima, and the popular Hornbill Festival.
Driving In Nagaland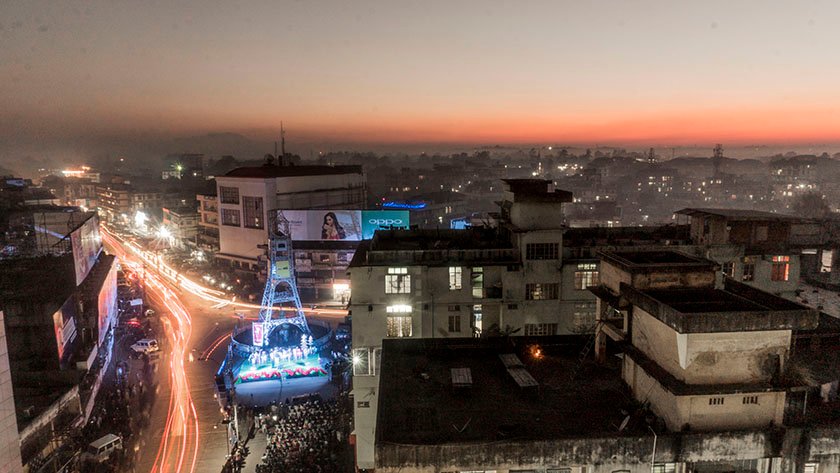 As I discovered, Nagaland is a part of India, yet vastly different from the rest of India in many ways. And the biggest of all distinctions is how people drive there. One starts realising the fine driving habits of Naga people, as I did, myself, as soon as they leave the airport and hit the streets in Dimapur. The land of colourful festivals, indigenous tribes, intricate art and craft, and strange and surprising fruits, Nagaland has surprising ways of pleasing people.
Speaking of roads in Nagaland, however, even the most frequented highways are popular for their appalling state. From some of the most unspoken towns to popular ones like Dimapur and Kohima, there often is space for only one vehicle to pass by at a time. Yet the good thing is, those behind the wheel respect traffic rules and drive with care. No one ever impatiently honks or rash-drive. When they see a vehicle approaching from the opposite side, they would slow down or even stop to one side to allow them to go by first.
Coming from a city like New Delhi where the only rule on the roads is "me first", I was pleasantly surprised by this exception.
Our Journey From Dimapur To Kohima & Back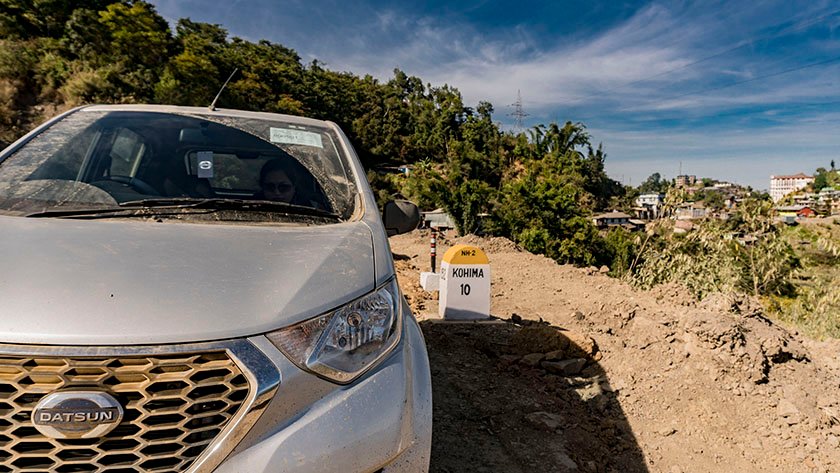 Having two brand new Datsun redi-GO, evenly distributed among the group of four bloggers, promising at least one hour drive for each person (given it can take 3 to 4 hours to cover the 70km Dimapur-Kohima route) we started our journey.
Unlike driving in mountains, Dimapur to Kohima isn't a pleasant experience, as was the case, at least, when we travelled, since the road was being transformed from a narrow dirt-track to a four-lane highway, turning everything from a beautiful green to a dusty yellow.
Our exhaustion from the bumpy ride lifted slightly only when we were informed that sometimes the same journey of just 70 km can take up to 7-8 hours due to landslides. And while we were still lucky to have brand new cars for us, some people were travelling in the rickety buses or the overloaded (and the burdened) shared taxis.
Datsun redi-Go: Making Our Journey Easier
One thing that struck me the most about redi-Go was its class-leading ground clearance of over 180mm, I mean otherwise driving on roads as we did would have been totally impossible — at least for many other cars in that class. The suspension was moreover pretty impressive. Despite having more potholes and dust on the road than there was concrete, the ride was super-smooth.
Another thing worth noticing was how natural the entire transition felt, as I personally don't own a Datsun back home. As soon as I sat in the driver's car, the entire chemistry felt familiar. From headroom to legroom and everything else in between, everything that redi-Go offers is meant to feel the driver nothing but comfortable. It just seemed like a perfect upgrade. The car is compact but doesn't ever feel smaller.
One key feature which stood out for me and I would definitely like to highlight here is its head-turning headlight and taillamp — making night driving (particularly in mountains) so much easier and safer. Most manufacturers don't pay enough attention to such small things for entry-level cars, but Datsun has totally nailed it.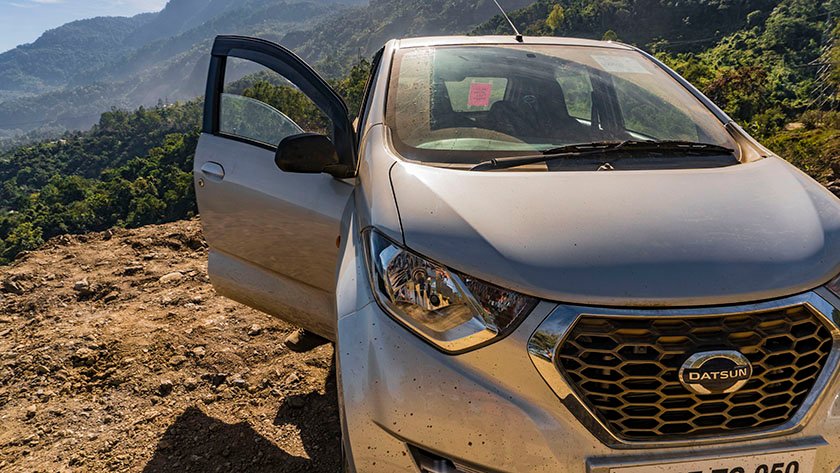 I can surely recommend it to first-time buyers.
Disclaimer: I was on a test-driving blogging trip with the redi-GO provided by Datsun India. Though our trip was sponsored, all experiences and recommendations are solely mines. I only recommend what I personally try, and find worth appreciating.