Before I start with this blog on 'best camera for motovlogging' and talk about the motorcycle helmet camera I am using and recommend, I want to tell you guys that I am writing this blog out of pure experience.
I am a motovlogger myself and I have been travelling on my Jawa 42 across India. You can check my Instagram Page (and ask questions if you have any!) as well as find me on Youtube as Footloose Dev.
So yea, whatever's written in this article on the best camera for motovlogging is written out of the experience. I have tried different action cameras including the SJ Cam, Xiaomi Yi, Gopro and others.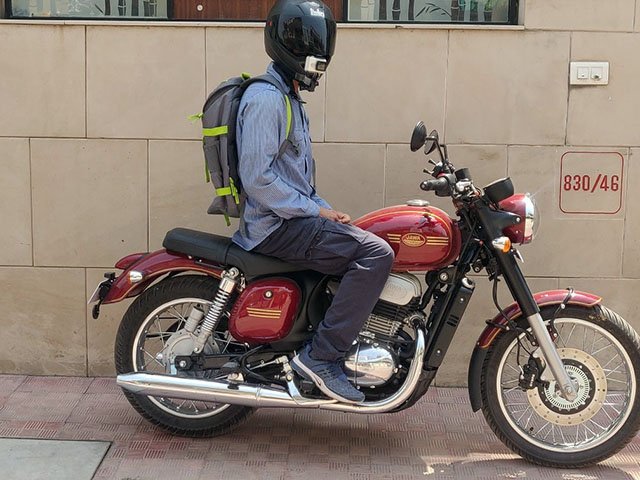 My current motorcycle helmet camera to go with is a Hero Gopro (we will discuss later in the article which one).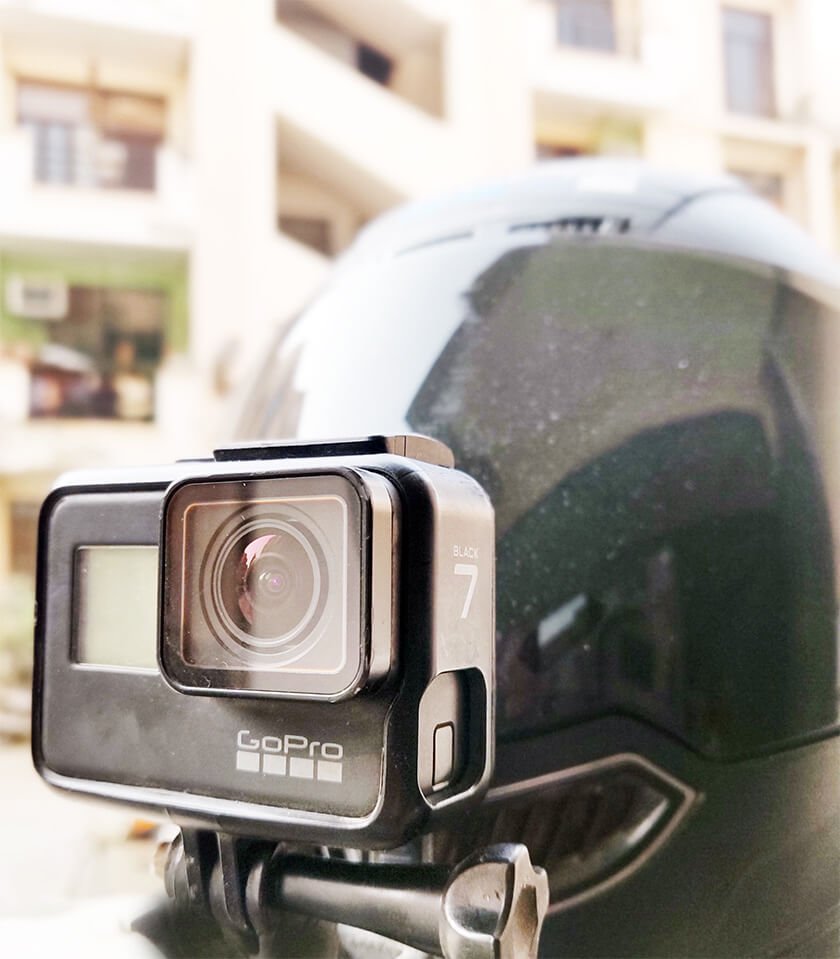 When it comes to motovlogging cameras in India we have quite a few options, and that makes it hard to choose the right one — especially as a beginner. Between a limited budget and hundreds of options to choose from, the decision becomes tough.
As a beginner, it is important to understand two things:
How much do you want to spend.
What quality of video you are looking for.
If budget is no problem, I suggest you should go for a Hero GoPro and end the entire dilemma of buying the best camera for motovlogging right then and there. Hands down, GoPro offers great image stabilization and picture quality. It moreover makes sense to go for a brand that is leading the Indian action camera industry.
So yea, if budget is no problem for you, and you can spend over 30,000 Rupees, the latest version of Hero Gopro will be the motorcycle helmet camera I would recommend.
If, however, you cannot spend 30,000 plus for your setup, but you still aspire to have the best motovlogging setup as a beginner, read ahead…
Best Camera For Motovlogging
Please note that this list follows no specific order.

There are quite a few different models for Xiaomi YI. Some offer 4k recording, while others don't. And their price varies from 5000 Rupees to 25,000 Rupees. So make sure you don't end up buying the wrong one.
The Xiaomi YI 4k Action Camera with 60 FPS Resolution and 12 MP Raw Image, for example, costs nearly 26000 Rupees. I would never recommend buying a Xiaomi for that price. For 25,000 Rupees, better buy a GoPro or a DJI Osmo.
Anyway, the YI featured above (for nearly 10k Rupees) is a good entry-level motorcycle helmet camera I recommend for beginners. It may not be the best camera for motovlogging for someone who has 1 Lakh subscribers on Youtube but for someone who is just starting, it's a pretty decent investment.
I used the same action camera during my initial motovlogging days. Compared to a Gopro, it lacks image stabilization and low-light shooting capabilities. Of course, the video quality is also comparatively poor to that of a GoPro, but given the price that is three times less than that of a Hero GoPro, it's not a bad investment at all.
So yea, Xiaomi YI gets a much deserving place in our list of the best camera for motovlogging.

While buying their first motorcycle helmet camera, most newbies often get confused about whether they should invest in a 4K video resolution action camera or a full-HD. And I suggest they go for full-HD. I mean despite vlogging for a long time I still hardly shoot and upload my videos in 4K. The max resolution I shoot with my Hero Gopro is 2.7K.
Though a 4K will have better video quality than a full HD, the chances are you are hardly going to shoot in 4K for your Youtube videos. And even if you do, you won't upload them in 4k. 90% of the Youtubers don't.
Unless you're creating documentary-style videos and you're going to release your videos for TV or commercial purpose you don't need a 4K video.
Now, the reason why I don't suggest newbie YouTubers invest in a 4K action camera is that they're often expensive. For example, SJCam Full-HD featured above costs about 5000 Rupees. A very similar SJCam with a 4K recording costs three times that price. So why invest in such an expensive motorcycle helmet camera when you don't even know how far you're going?
So yea, SJCam SJ4000 with Full-HD gets second place in this list of the best camera for motovlogging.

Though the two motorcycle helmet cameras featured above excel in everything (for a newbie vlogger) what they lack is good audio quality.
Good audio was the biggest problem I always faced with my Xiaomi YI Action Camera setup during my early vlogging days. As soon as I will have the waterproof housing on the camera, I would lose the audio quality. The waterproof housing, moreover, did not have a mic jack for an external mic.
To address the problem, PROCUS Rush, in their 2.0 edition, came up with a factory-provided external mic. And that's what makes it, despite a very new and unknown name in the motorcycle helmet camera industry, a well-deserving entrant in this list. At nearly 7500 Rupees price tag, it indeed is one of the best, if not the best camera for motovlogging in its class.

The Hero GoPro has always been a popular choice for motovloggers in India, and overseas. Though GoPros are meant for every adventure and are not just a motorcycle helmet cameras the reason why they become so popular among motovloggers is because of their capabilities.
As far as compact action cameras are concerned, Hero GoPros have the best design technology. Not only are they compact (as most action cameras are) but they offer other features too. It is possible to charge a GoPro without taking it out of the external waterproof housing. If it rains or you want to take it underwater, cover the charging point, and voila!
Another very handy feature is that a GoPro starts recording with the click of a button. This makes it very easy for motovloggers to record sudden moments while on the go.
With the introduction to hyper smooth stabilization, GoPro 7 and beyond have literally become the best camera for motovlogging. No longer, even if offroading, riders need to worry about the stabilization of the footage during post-production edits. Hero GoPro 8 made things better with Hypersmooth image stabilization.
The latest entrant in the market is a Hero GoPro 9. But the reason why I am still recommending a GoPro 8 over the newly launched GoPro 9 is that it has everything similar to a GoPro 9 minus a selfie-screen. As a motovlogger you won't really need a selfie-screen, so buy a GoPro 8 and save yourself a few grand.

And last but not the least, the most expensive (in this list) but indeed the best camera for motovlogging — the Insta 360.
Most people get confused and think of the 360-degree cameras being only capable of doing 360 degrees spherical views but that is not true. A 360-degree camera means it can capture a spherical image that can be cropped to have a normal image. Shoot in a 360-degree view and take whatever bit of the image you want while editing — the front, the back or either of the two side angles. And this makes a 360-degree camera a more handy and practical motorcycle helmet camera than all other cameras in the world.
With my Hero Gopro, the biggest challenge I face is capturing different angles. If I have it attached to my helmet, I only shoot what's in front of me — I get no shots of me riding. To address the problem, I put an assembly on the windshield of my bike, with the GoPro facing me. Now I am shooting myself but missing everything else.
You need at least 2 Gopros (or any other normal action cameras for that matter) to capture what a single 360-degree camera does.
Now, there are quite a few 360-degree cameras available in the market — from a 10,000 Rupee LG 360 Cam to a 3 Lakh Rupees Nokia's Ozo — and among all, the best camera for motovlogging is an Insta 360. Why? Because of its build quality, price, and camera capabilities.
View this post on Instagram
Motorcycle Helmet Camera I Am Using
I have been using a Hero Gopro 7 since its launch and never have I ever desired to change it. Why so? Because it's still just as perfect as a Hero Gopro 8 or 9.
Though the newer versions of GoPros have better capabilities than their predecessor, they did not come up with a feature that could compel me to sell off my GoPro 7, invest another 30,000 Rupees and buy a GoPro 8 or 9.
The company introduced hyperstabilization in Hero GoPro for the first time. No other compact action camera had it until then. If you will compare the footage of a GoPro 6 with that of a GoPro 7, you will see a big difference. In GoPro 8, the company improved the hyperstabilization and came up with something they referred to as 'hypersmooth-stabilization'. The difference was almost insignificant. The GoPro 8 did not have any other add-on feature worth swapping the older version for. So I did not switch.
The Hero GoPro 9 came up with the same Hypersmooth-Stabilization and a selfie screen. As a motovlogger, I don't really need a selfie-screen since I am behind the camera most of the time. I have, moreover, developed comfort vlogging and not really seeing myself while shooting.
So yea, I stuck to the older Hero GoPro 7, again!
Having said that, if your budget is less and you want the perks of a GoPro hyperstabilization, I suggest you buy a second hand — or even if you will buy a new one it won't cost you much — Hero GoPro 7 BLACK. It indeed is the best camera for motovlogging, unless, of course, money is no problem for you and you want the latest motorcycle helmet camera on the market.
Best Motovlogging Setup
If money is no problem for you, I suggest you buy an Insta 360 (the latest version) and install it on the windscreen/the top of the headlamp of your motorcycle. Fit a wireless mic into your helmet and voila. You will get good audio and shots of the road, yourself and either side of the road.
If you don't want to invest heaps but still don't want to compromise with quality, I suggest you buy a Hero Gopro 7, a mic (most motovloggers, including me, use Boya BYM1 Omnidirectional Lavalier Condenser Microphone) and start vlogging. A combination of these two will make for the best motovlogging set up for you at a good price.
To add to the setup and get more cinematic shots, fix a few assemblies on your motorcycle and get different angles. Two of the best place to add assemblies are: on the windscreen facing you, and somewhere close to the side stand (to capture low-angle shots with the front tyre in the frame).
If you want the cheap setup (still the best motovlogging setup of course) and your budget is under 10,000 for everything… mic + motorcycle helmet camera + waterproof housing, I suggest you go for SJ Cam SJ 4000, buy 2-3 adhesive fixings (to get different angles), an external mic and that is it. It will cost you…
Rs 5500 for the camera.
1000 Rupees for the external mic.
About 2000 Rupees for the waterproof housing and 2-3 fixings.
… in less than 10,000 Rupees you can complete your motovlogging setup, with one of the best cameras for motovlogging for beginners,  if not the best.
Conclusion
Please note that photography is an expensive hobby. No matter what camera you buy, you always want to upgrade your equipment. And the same applies to a motorcycle helmet camera too.
Even if you buy the latest Gopro available in the market today, 6 months later you want something better. So think about your purpose and your pocket size.
I recommend you start with the most budget-friendly camera equipment and later upgrade if you're making good money from Youtube or film-making. And if you're doing it for passion and money is no problem for you, just buy the latest GoPro, or an Insta 360 if you want 360-degree video recording, and save yourself from the tiresome discussion about the best camera for motovlogging.
Happy vlogging!!
If you're following me on Instagram and love my photos, let me tell you that most of my (at least all the recent ones) photos are shot on my Samsung M51 mobile phone.
You can check the Amazon Page for all its specifications…
Let's connect on Instagram.
If you found this article useful, please go ahead and give my Youtube Channel another subscriber. Your subscription is my motivation!!