With people watching videos on my Youtube Channel they often ask about my Motorbiking gear – from helmet to riding jacket to other things.
To answer their questions, I've put together this page that talks about all my useful motorbiking gear. This page will give you a brief idea about what I carry when I am riding and why I recommend a similar product.
Please note that some of my motorbiking riding gear may seem expensive and you can certainly buy a cheaper alternative, but the quality these products offer will make it up to the price tag.
You may also be interested in reading my Jawa bike Accessories that talk about everything – from motorbiking riding gear to accessories to related suggestions.
Motorbiking Gear: Riding In India
Attractive, handy, professional, and long-lasting, the products mentioned below fit all the descriptions. There's certainly a low-cost alternative to some of the products, but if you want the best in its class, look no further. This motorbiking gear will make your journeys comfortable, and more fun!
Helmet
Steelbird SBA-1 by Steelbird (Price: INR 2,500 | buy at steelbirdhelmet.com): When you're riding for long hours, you need to stay connected with the world. And to do that having hands-free functionality in your helmet is a must. This is where Bluetooth helmets come into the picture. The only problem is, Bluetooth helmets cost a fortune, require charging the helmet Bluetooth device, and drain out the phone's battery. So what's the solution?… Steelbird SBA-1 Helmet.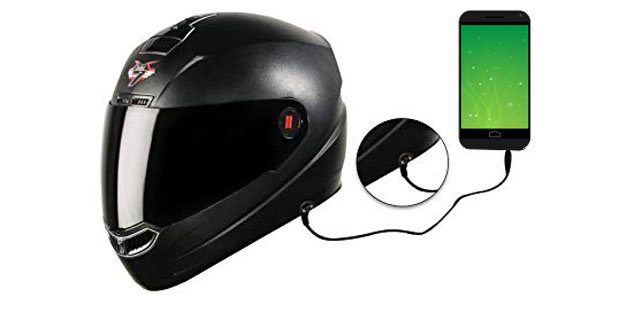 Steelbird SBA-1 comes with an inbuilt speaker and microphone that connects with your phone using an auxiliary cable. The auxiliary cable plugs in on the outside of the helmet (with a tiny button to pick and drop a call or play music).
Speaking of the sound quality and the material of the helmet, be rest assured that both are up to the mark and justify Steelbird's brand name. I've personally used the helmet for more than 8 or 9 hours of a ride in a day and totally loved the comfort and technology it offers.
KYT NF-R
Besides Steelbird SBA-1, KYT NF-R is another helmet option I go for.
One of the highlights is the shape of the helmet. It's a medium-sized full-face helmet with an aerodynamic shape to reduce any drag pressure, and the material is a mix of thermoplastic resins and it's highly resistant to crashes.
It also obtains the best airflow and comfort while wearing it. Even if I'm under the hot sun, I still enjoy the ride thanks to its ventilation design. One vent on the top and one on the chin helps with keeping good airflow for a cooling experience.
For the visor, when I first experienced riding in heavy rain with this KYT, I was impressed with how well the visor is sealed that the rain did not get past at all.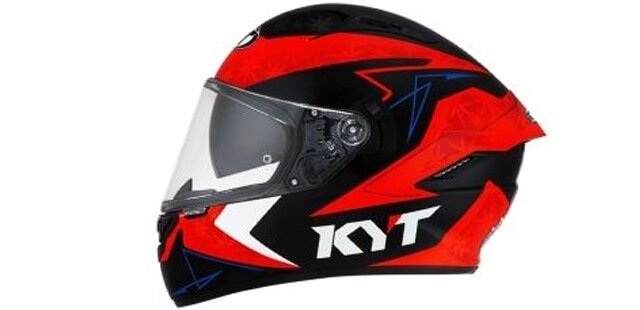 Riding Gear
JACKET: TourBine Motorcycle Jacket by Raida Gears (Price: INR 7,500 | buy at raidagears.com): When it comes to buying a riding jacket, the most challenging thing is choosing the best out of the lot. I have, myself, spent hours of research, applying different permutation and combinations (of price vs the quality) and researching the best Riding Jacket out there that is not too expensive but offers great protection and in the end found something that fit my budget perfectly well.
Made of 600D polyester textile and mesh, this riding jacket offers durability and comfort. Thanks to a removable reversible waterproof and thermal liner, you can wear this jacket in summer as well as winter. Speaking of protection, with this jacket, you get level-2 padding on shoulders and elbow areas, and level one on the back, which is fairly justified given its price tag. 
I mean you can buy much superior riding jackets out there, with more functions and better padding, but at this price range, this product is a great bargain.
GLOVES: Streeton Riding Gloves by Raida Gears (Price: INR: 2,800 | buy at raidagears.com): When it comes to riding gloves, more than safety, what personally matters to me is the comfort they offer. Three things I would want in any riding gloves are, they should be soft and comfortable inside, well-insulated, and moisture-free to keep the hands dry.
I've used this pair of gloves on long rides and touring and loved the comfort they offer. Speaking of safety, they have double-layer leather in impact areas, including TPU molded polyurethane knuckle and finger protectors and hard TPU finger protectors.
There are a few other riding gloves available at Raida but among the lot, the Streeton remains my favorite given its comfort and attractive design.
Luggage System
SADDLEBAGS: Longride (Price: USD 259 for Saddlebags and USD 239 for Tailbag | buy at longride.com): When it comes to buying a luggage system, the looks matter. But more than looks, what's important is the degree by which the luggage system makes your journey easier. Your luggage system should be lightweight, easy to install and remove, and not feel bulky (while still offering enough space for you to store items). And fitting all descriptions, are my Longride Saddlebags and Tail Bag.
I understand that for some people, their price may seem a little high, but given the functionalities, they offer (on top of trendy looks) and the fact that they're 100% real leather, and this guarantee a long life, make their price worth an investment.
All their luggage bags are made using full-grain, vegetable-tanned leather. They moreover have a 22-oz hard-wearing waxed cotton making the bags totally water repellant. Here's a video I made about Longridge Saddlebags:
TANKBAG: Raida GPS-Series Magnetic Tank Bag (Price: 3,099 | buy at raidagears.com): Where saddle system is indeed great to carry some extra load with you on your motorbike, a tank bag proves to be much more useful, thanks to the easy accessibility it offers while on the move. I use my tank bag to carry all the camera essentials and my blogging kit, including my DSLR, extra lenses, and even a 13-inch laptop (with a laptop case to keep it protected).
The best part about this tank bag is that it is basically a midsized tank bag that doesn't look too big on my Jawa's 13 Ltr tank. And the basis of how much I want to carry, I can even expand or shrink its size using a zipper.
When fully expanded, I can use the tank bag to conveniently store a full-face helmet. The adjustable straps moreover allow me to use it as a normal backpack and conveniently take it with me wherever I go.
Motorbike I Use This Gear
Jawa 42 (Price: INR 1,80,000 on-road, with 5 years zero-depth insurance and Haryana Registration). 
Jawa and Jawa 42 come with exactly identical technical specifications. Both are powered with a 4 Stroke, Single-Cylinder, Liquid Cooled, Spark Ignition, DOCH; and offer an impressive 28 N.m @5000 rpm of torque, guaranteeing a much quicker acceleration, compared to other competitors in the retro segment. Here are two blogs for more: Jawa 42 Delivery Time and some of my Jawa 42 Classic Perak images and Photos.
I won't be describing the motorbike much, as any description here won't justify the love I have for Jawa Motorbikes. Perhaps head to my Youtube channel and see some videos. To start with here's the first-ever TAKING DELIVERY video: 
COLOR PROTECTING: INCREASING MOTORBIKE'S SHELFLIFE
Color Protection by Detailing Devils (Price: 10,000 | get it done at detailingdevils.com): To prepare my Jawa 42 for a tough adventurous life ahead, I decided to make its glossy paint and chrome finish more prone to weather conditions. How? By getting a ceramic coating from Detailing Devils over its body and chrome parts. 
Named as 9H Diamond Nano Armor (9H DNA) the process basically includes a dual-layer of two ceramics mixed together to produce 9H hardness (MOHS scale) on the painted surface. It forms a stronger, long-lasting protective layer once applied to a vehicle's painted surface and gives it protection against chemicals, UV rays, color fading, acid rain, oxidation, bird droppings, road grime, corrosion, hard water stains, and swirl marks… in short, pretty much everything out there.
It protects the surface and makes it scratch resistance, chemical resistance, hydrophobicity, and mud-repellent. The coating can be applied to new as well as old automobiles. Here's a quick video I did on Youtube:
Do we share any of the motorbiking riding gear I use? What do we have in common?