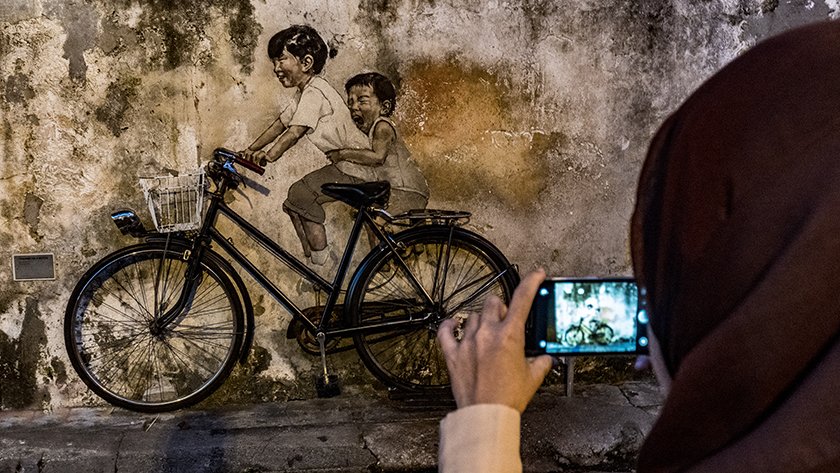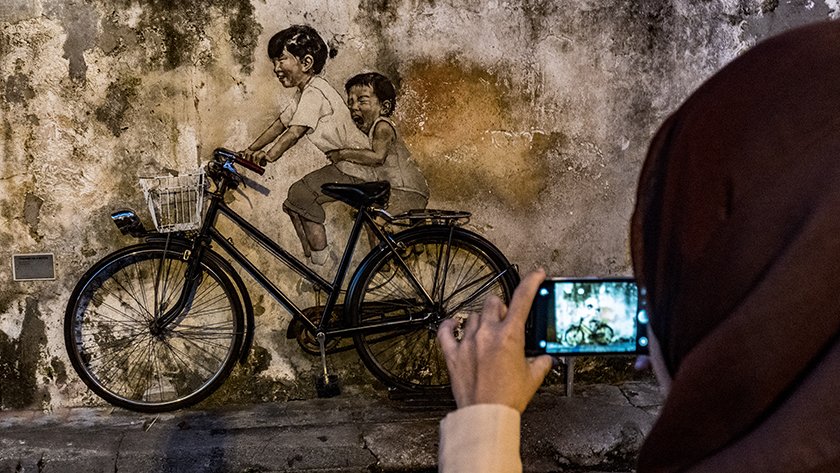 When you are in Georgetown, in Penang, besides trying its street-food and exploring the many white sand beaches, do not forget to uncover its rich street art. Street art in Penang is one of the highlights and the very reason why I would call Georgetown a modern heritage town. The way how Georgetown has infused new art forms into its decade-old architecture is definitely worth appreciating.
Though it is still a long way for Georgetown to challenge the likes of Ljubljana's Metelkova Graffiti Area or the street art in New York, the fact that the street art scene in Georgetown is transforming its bleak walls and sculpting them into a cultural oasis, cannot be disregarded.
A Bit Of History

It all started back in 2009 when the State government, in order to physically brand the UNESCO World Heritage town of Georgetown, and make it more interesting and informative for public, opened an international pitch (under the campaign 'Marking George Town') for artists to come together and put forward their ideas, that retell the history of the streets and stories of its communities in a local voice. The winning ideas culminated a series of steel-rod-caricatures, under the creative direction of a local artist named Tang Mun Kian, who won the commission with the theme "Voices of the People," a retelling of Penang history by Penang characters with their own peculiar brand of wit and humor. In 2010, the work started. To date, the town has completed a total of 52 steel-rod-sculptures.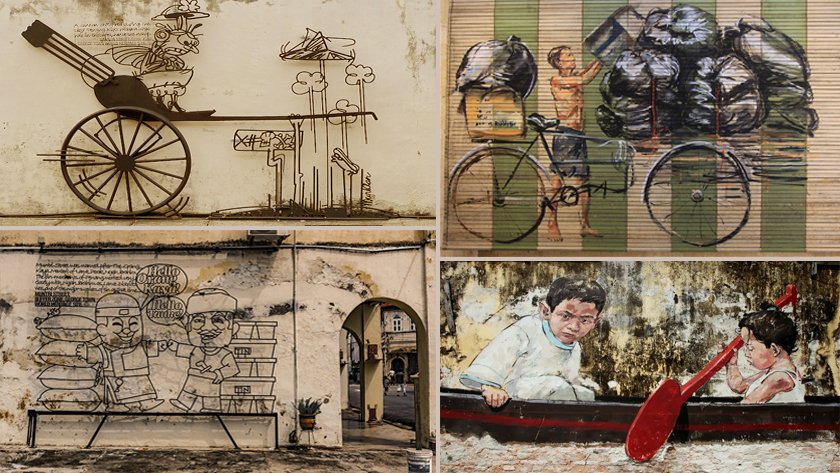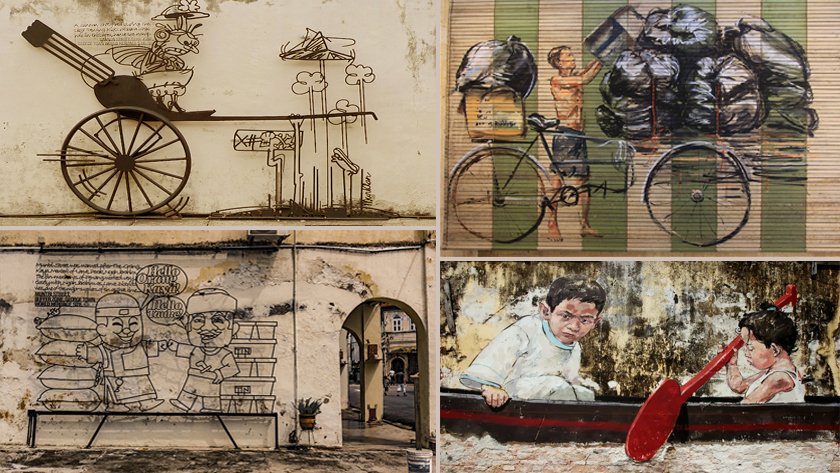 From left: Two of the total 52 steel-rod-sculptures in Georgetown | On the right: Graffiti art by Ernest Zacharevic
Later in 2012, another international artist Ernest Zacharevic was commissioned by the Penang Municipal Council to create a street art project called 'Mirrors George Town.' He gave the town a series of graffiti sites retelling the story of Penang with his own mind and ideas. Interestingly, Ernest's graffiti sites overshadowed many other tourist highlights, and are now one of the top attractions for tourists in Penang. Undoubtedly, the boy was super-talented, because if it were for anybody, they'd have a need to think carefully how to mark these city walls more interesting and enhance local culture and lifestyle in the region. But if you carefully consider the work that Ernest Zacharevic has ended up doing, there's only one word you'd want to take home with you appreciating what he did, and that is 'marvelous'.
The Street Art In Georgetown, Influenced By Ernest
Though street art in Georgetown is everywhere, spotting it, sometimes, can be fairly tricky because every piece of art look so real that don't actually realize that you don't realize that you're looking at something that has been painted unless you look at it twice. A boy reaching for a hole standing on a real chair, or an elderly man on his rickshaw paddler having a break — the way how painting and actual objects have been used together is simply amazing.
Suggested: If you're looking for more places to see in Malaysia, beyond just Penang and Georgetown. Read this Ultimate Malaysia Travel Guide for more tips.

From left to right: A boy reaching for a hole standing on a real chair, an elderly man on his rickshaw paddler having a break


Across the street, a group of real rickshaw paddlers, looking for customers for a happy ride
While most of the murals are located at Labuh Armenian and Gat Lebuh Armenia, a few popular ones may still demand you to go a little offbeat. But if you're short on time, and walking long distance is not your favorite thing, stick only to Labuh Armenian and Gat Lebuh Armenia, and you will uncover most of the prominent street art that the town has to offer.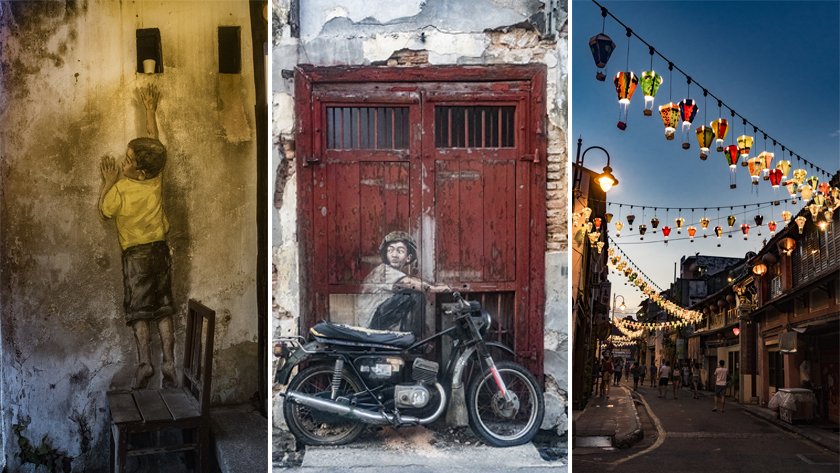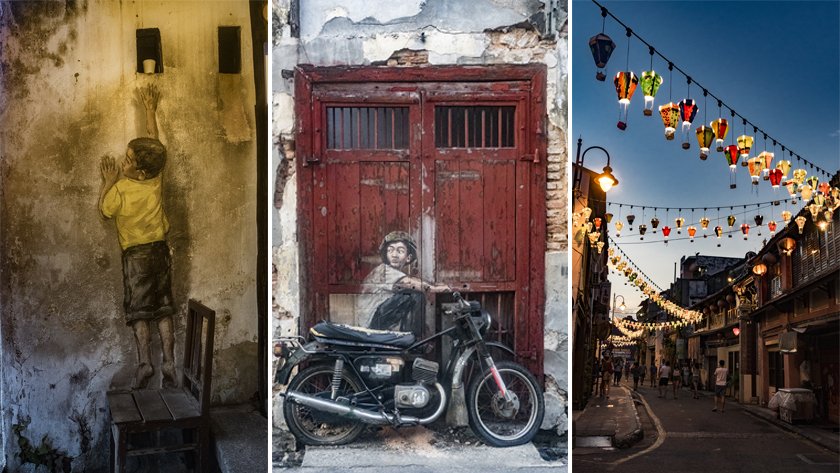 In the left & center: two very renowned street art murals by Ernest Zacharevic. On right: The popular street of Labuh Armenian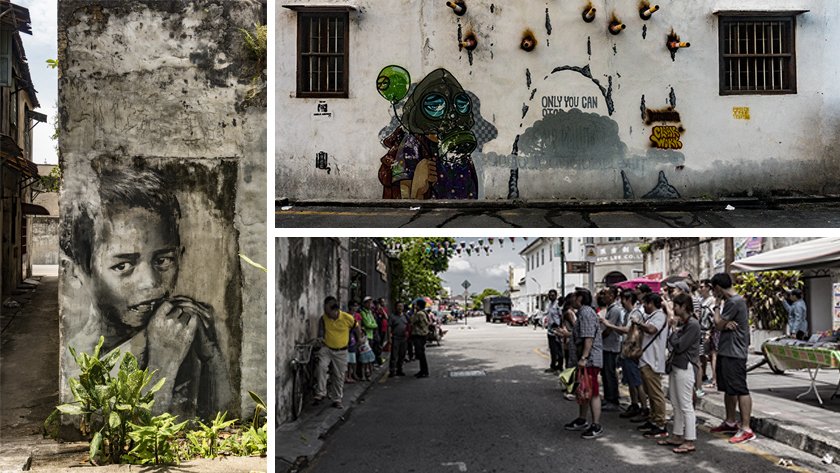 More graffiti artworks by local artists in Penang. On the bottom right: a group of tourists getting their picture clicked with one of the artworks
Moreover, please note that not all the graffiti sites were originally painted by Ernest Zacharevic. He painted a total of only 8, and soon after the completion of this work, other artists followed the league and provided the town what all it has to offer today. But to honestly tell you the truth, it doesn't even matter who painted what, because they all look just equally beautiful.
The 52-Steel Rod Sculptures
The Steel-Rod Sculptures in Georgetown do not only tell stories of the place but introduce the traditions, beliefs, practices, and industries in key areas of the city. And to fully understand and appreciate each piece, it is important to read the accompanying descriptors — as they briefly explain the history of the place and the people who worked and lived there. Just explore the main tourist routes and you will find some of the best pieces.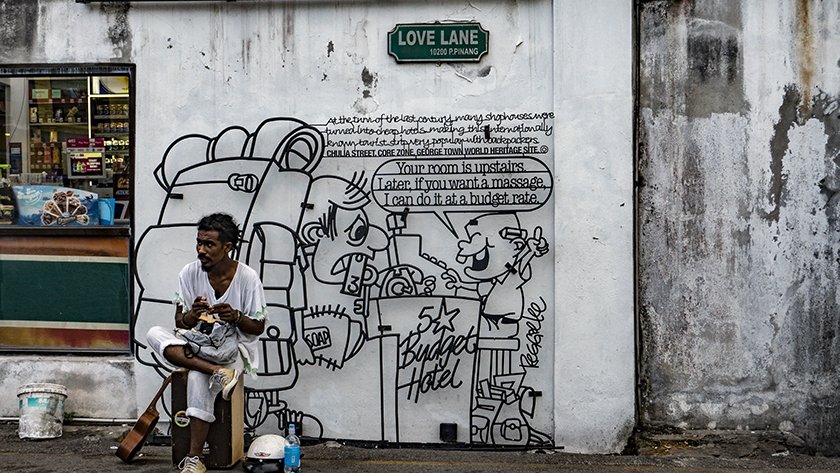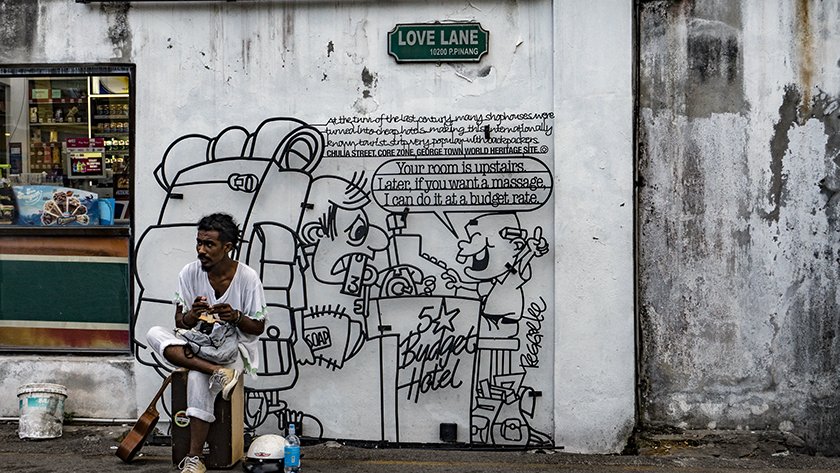 A street performed waiting for the crowd at one end of the Love Lane — one of the most popular streets in Georgetown, laden with backpackers hostels and cafes.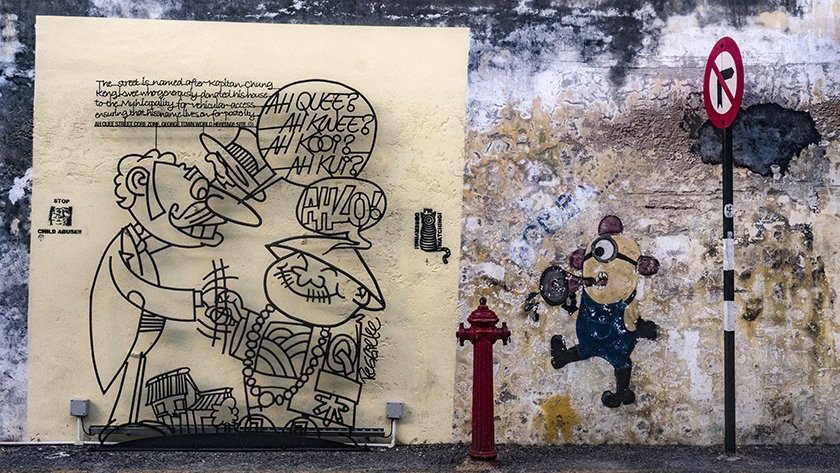 The popular "Ah Quee?" Sculpture located near the junction of Ah Quee Street and Pitt Lane that celebrates Kapitan Chung Keng Kwee, one of the wealthiest and most powerful men in 19th century George Town
Hidden at the end of a and gracing a simple house, for example, lies a clever piece that introduces Ahmad Rashid Talu, the first to write an original Malay novel, based on the local setting and characters. Here, the famous author is depicted as the baby writing from his cradle. A few steps from there, at Lebuh Acheh, lies another economically-simple steel-rod-sculpture depicting an escape from the window of a warehouse building that was once a prison on Lebuh Acheh. An interesting and an all-time popular piece, however, remains the "Cheating Husband" on Love Lane, which is a comical rendition of a wealthy man hanging out of his mistress' window.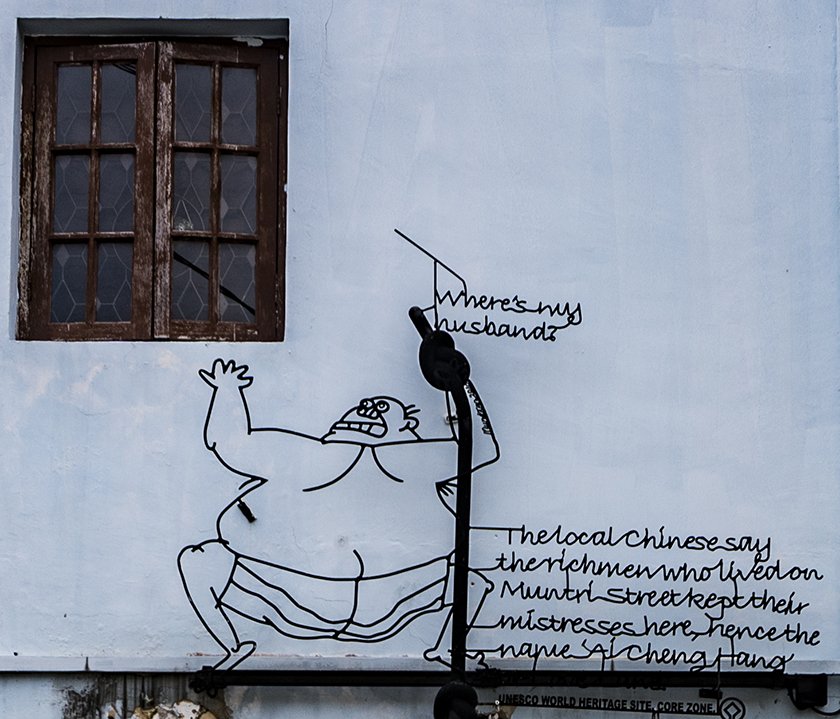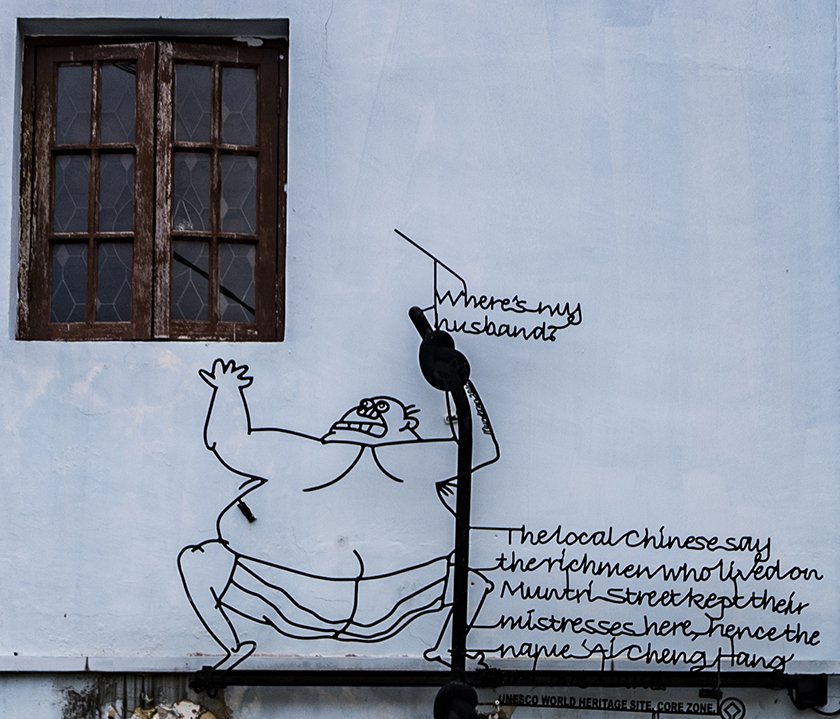 The popular "Cheating Husband" steel rod sculpture at Love Lane
Certainly, there are some pieces which can make you laugh, even after seeing them countless times, but most of them remain simply efficient and productive in conveying the story of Penang, and of Malaysia, at large.
The Key To A Successful Walking Tour: Get Yourself A Few Good Maps
The many city maps and guidebooks available out there are going to give a slightly different route-map to follow and often include a few different artworks.
While I was in Georgetown exploring its graffiti and metal-sculptures, using a map I picked up from the hotel, I came across a British couple carrying (an entirely) different map than mine. A little consideration and both parties realized what they were missing out. Instantly, we swapped our maps and filled our days with a bit more activity, and a lot more sights to uncover. So make sure that the map you'll be carrying for your little hunt takes you through at least 30 graffiti art and 52 steel-rod-sculpture sites. However, the more, the better.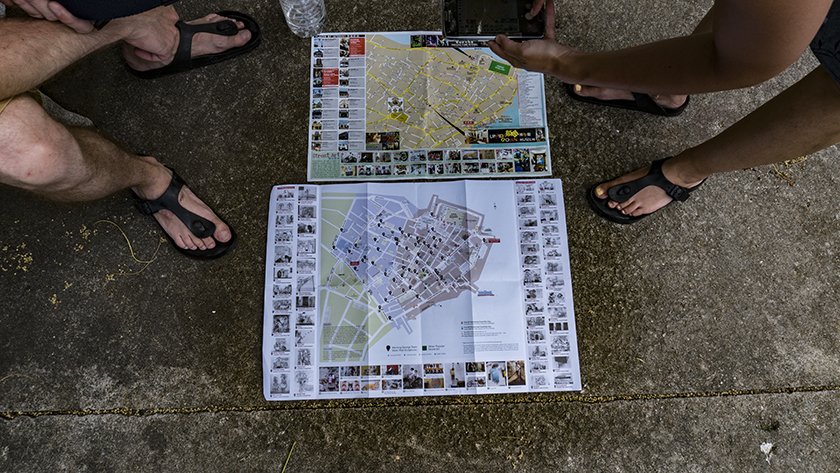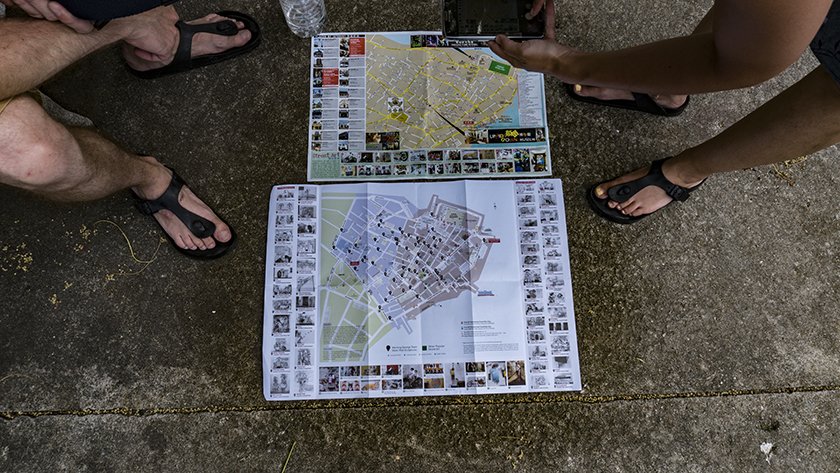 To get as many different maps, and a bit of personalized information, it is advised to visit the tourist center in Georgetown, located at Lebuh Pantai.
A Bit More About Georgetown
Join the world's three ancient cultures, some amazing colonial architecture, and savor it with some of the best southeast Asian food — the beautiful concoction you will get is called Georgetown. Regarded as the historic city, Georgetown covers over 100 hectares of land, bounded by Stratis of Malacca on the north-eastern Cape of Penang Island. There are more than 1,700 historic buildings within its core zone, aligned on four main streets namely Pengkalan Weld, Lebuh Pantai, Jalan Masjid Kapitan Keling and Lorong Love.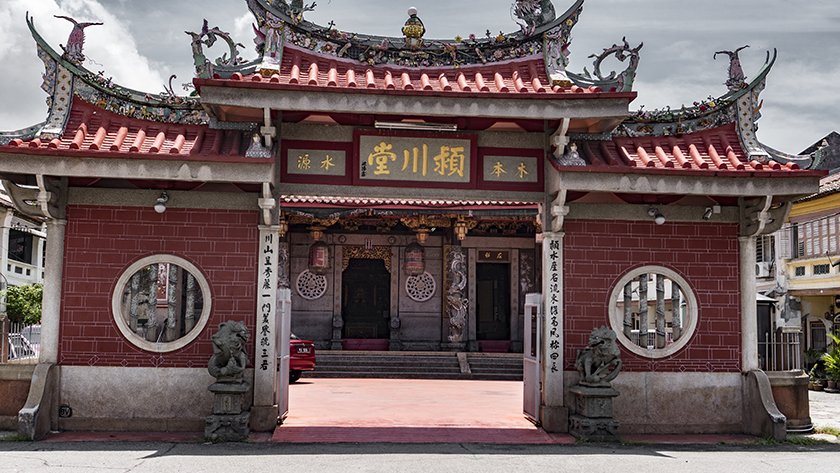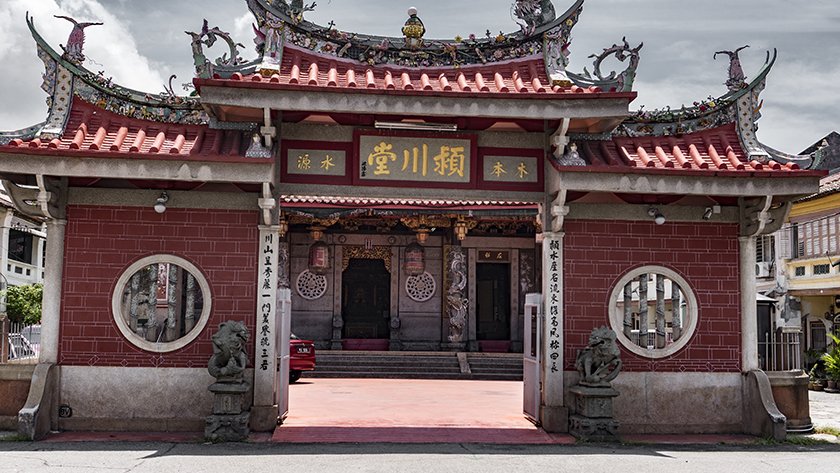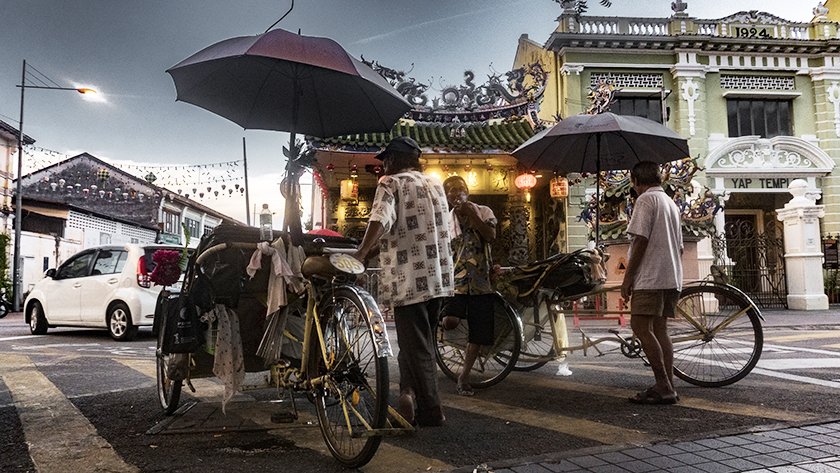 The city gained its title of World Heritage town back in 2008, and since then attracted an overwhelming flow of foreign tourists. But that doesn't mean that Georgetown has lost its charm even one bit. Be here any time of the year, and you will breathe in its air, a perfect blend of history, art, food, and culture!
Further Reading: How To Travel From Kuala Lumpur To Penang