Clan Jetties in Georgetown or the Clan Jetties of Penang came into existence in the 19th century when Chinese Hokkien immigrants living in Malaysia with common surnames and relations came together and started a community at the waterfront in Penang. Today, it's a popular tourist highlight. 
From my visit to Clan Jetties in Penang, this is how to plan a trip and what to see and do there…
"The families living there are still not subjected to pay for house taxes because technically speaking, they are not living on land, but on the sea," I remember the first bit of information I received about Clan Jetties of Georgetown, In Penang, very clearly — enough to build a sudden interest to go and explore the area. A bit more enquiry and I found out that dawn was, apparently, the best time to visit the jetties, as this is when locals can be found busy sorting their daily routine, and (a crowd of) tourists is still fast asleep in their hotel.
A beautiful sunrise, leaving a tinge of orange and pink and yellow over the horizon of the Straits of Malacca, moreover makes the entire scene a lot more melodramatic.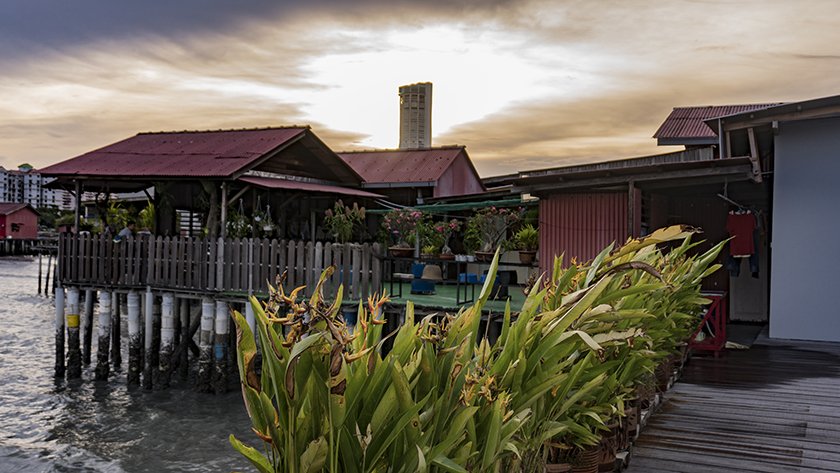 The picturesque neighbourhood of Kim Jetty as seen from the public area at its other end
Clan Jetting in Penang
Like fingers jut into the sea, Clan Jetties in Penang line the waterfront in Georgetown and build a community that existed for over a hundred years now, witnessing and contributing to the growth of Penang port.
As part of the Core Area of the UNESCO World Heritage Site of Georgetown, the Penang clan jetties are safe today, but that was not always the case. Encroaching development had always made a formidable threat to their existence, with some major destruction done in the 1930s and '40s.
More than one jetty was totally destroyed by the council, but the resilient spirit of the clans piled them through the hard times. Many of the clan jetties in Penang have now been revived and reconstructed, since their inclusion in UNESCO site in 2008.
Hanging clothes in an alleyway

A tourist taking a picture of himself
The Story of Their Existence
Clan Jetties came into existence in the 19th century when Chinese Hokkien immigrants living in Malaysia, with common surnames and relations, came together and started a community on the waterfront.
The area expanded in the following decades, particularly during the early 20th century as a result of immigration and with the jetty residents inviting more relatives from China.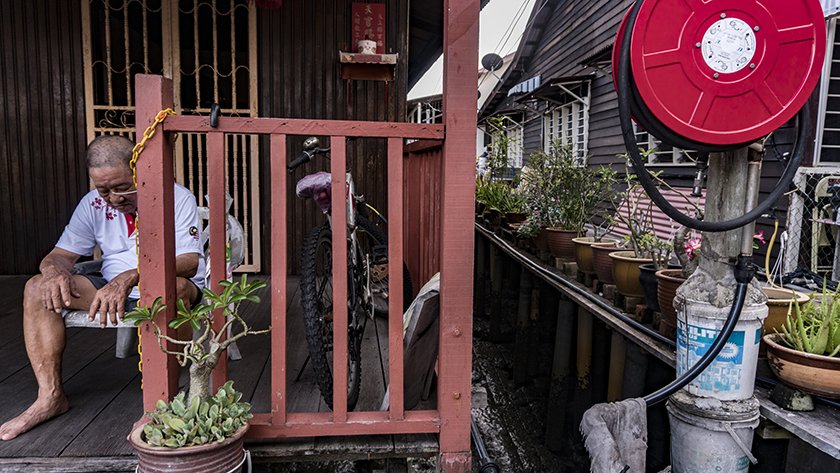 A man finding some personal space inside his porch, as waves upon waves of tourist pour in
As typical of early Chinese immigration and settlement patterns, clansmen in different jetties tended to band together while mastering different skills. The jetty residents namely the Ongs, Lims, Chews, and Lees capitalised on their locations at the shorefront and offered shuttle and cargo service for the bigger ships in the sea. Tan, Yeohs and Yoays clans, on the other hand, got involved in charcoal and firewood trading.
Penang Clans Jetties Today
With changing money-goals and opportunities, however, most families in the Penang clan jetty area now rely on tourists. Those owning a bigger space have started a homestay service, while others, a shop. Some have even started organising boat-tours for tourists.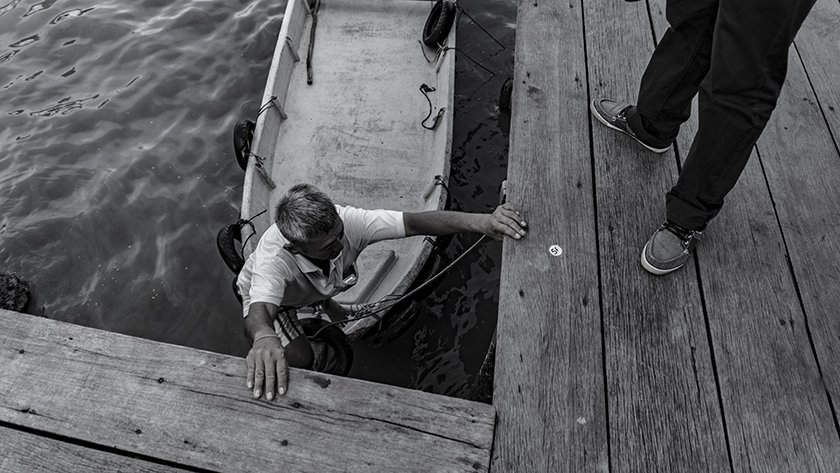 With increasing tourist inflow, most of the families in the area have started catering to tourists. For example, this guy who now uses his boat to take tourists around the place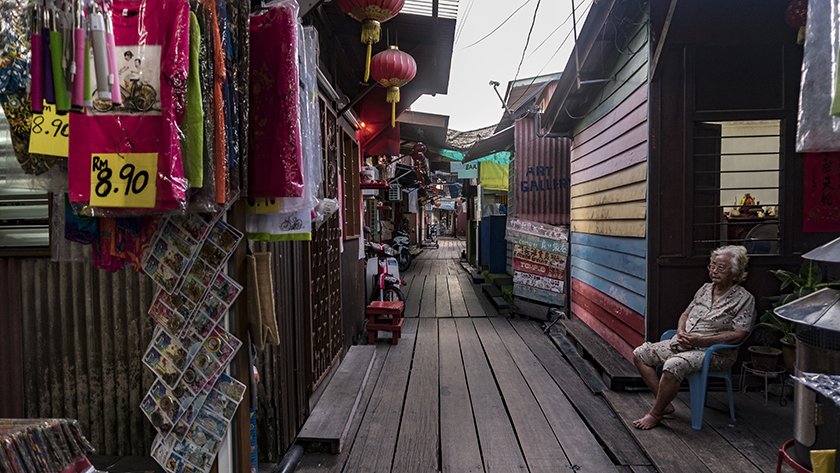 An elderly woman waiting for more customers, or perhaps relaxing outside of her house
Clan Jetties — The Highlight Of Georgetown
Where the entire Georgetown has today become a great tourist destination, Clan Jetties, at least to me, felt like the highlight. Because where the rest of Georgetown, despite a rare mix of cultures and ideologies, still offers a very ordinary town-like experience, Clan Jetties in Penang offers something unusual. You don't get to see a community, built out of trust and hope, every day. A very different locale, where everything is made out of wood and floating on water is moreover a rarity.
An even more interesting is fact that life on jetties goes very much the same way as it does on dry land. People ride their bicycles down the planks of wood which act as roads and sidewalks. Dogs nap in the shade, while elderly men and women stand on their porches and watch the day go by without a care in the world.
Practical Tips For Exploring Clan Jetties in Penang
The Penang Clan jetties consist of eight jetties today, named after their surnames, "Lim", "Chew", "Tan", "Lee", "Yeoh", "Koay", "Peng Aun" and Mixed Clans. "Chew" is the most popular and the biggest of all, with the entire long stretch of jetty being occupied by residents having "Chew" as their last name.
The jetties are open for the public to visit any time of the day, however, be advised that:
Smoking is strictly prohibited inside the jetty premises.
Shouting, yelling or talking loudly is discouraged around the houses of local residents.
You're expected to request permission, before photographing people, events or sacred objects.
Some areas are designated (but marked) for the exclusive use of local residents.
Continue Planning Your Holiday in Penang By Reading: A 3 Day Travel Guide To Penang
If you liked this Penang Clan Jetties travel guide and/or have anything to add in this blog, please share in the comments below!