With more and more people reading about my travel journeys, many have started asking about what I pack for my travels. So I've put together this page to share my long-term travel packing list, for a brief idea about what I carry and why I recommend a similar product.
Please note that some of my gear may seem expensive, but the quality they offer will make it up to the price tag.
Attractive, handy, value for the price, professional and long-lasting, these things fit all the descriptions. There's certainly a low-cost alternative to some of the products, but if you want best in its class, look no further but these.
---
Luggage & Backpacks
Rucksacks
75ltr (FjalRaven Kajka) for trekking (PRICE: Nearly 30,000 INR): It is said that if you invest (mark the word because Fjalraven rucksacks and backpacks are expensive, and buying one, for any Indian backpacker, is an investment) in a Fjalraven, you won't have to buy another one for at least a decade. Made of Polyester and vinylal, the Fjalraven rucksacks are known for rough handling and still not deteriorate. I have used Fjalraven Kajka for backpacking in the Himalayas and as well as trekking, including a trek that lasted two weeks, treating it like a sack of potatoes and it proved to be a friend.
The rucksack came with more adjustable straps than any of the trekking rucksacks I have used so far, particularly the cheap Decathlon ones. It is a front and a top loader and comes with a detachable hood (which can even be used as a day-pack). Thanks to a wooden frame to support back-posture (other than the average aluminum rods) the rucksack even feels lighter. If you can spend more money to appreciate little comforts, invest in a Fjalraven without thinking twice.
60ltr (Quechua Forclaz) for backpacking (PRICE: Nearly 3500 INR): Though Decathlon promotes it as a trekking rucksack, for me it didn't qualify as one. It may be because after using a Fjalraven my standards have improved, but quite honestly if you did the same, you would feel the difference in comfort that both backpacks offer. Quechua Forclaz can be hard on shoulders, hence I prefer it while backpacking only – where I don't have to walk 15kms a day.
So as long as you want a backpack with a few days of traveling and almost no trekking it's a good choice (particularly in that budget). It comes with a front and top loader and adjustable shoulder straps. If your budget is low and you appreciate the idea of carrying a backpack over a rolling suitcase while traveling, this rucksack is a great choice.
50ltr (Wildcraft Trailblazer 2) for backpacking (Price: Nearly 4500 INR): This remained my favorite backpack for almost a year before I used a front loader and found a front loader much easier to deal with while backpacking, than a top loader. Wildcraft Trailblazer looks trendy (thanks to capsule-like shape), is durable (and comes with many years of warranty), offers adjustable straps, and a great padding – better than Quechua Forclaz, making it ideal for a few days of trekking too. The only disappoint remains the same – a front loader!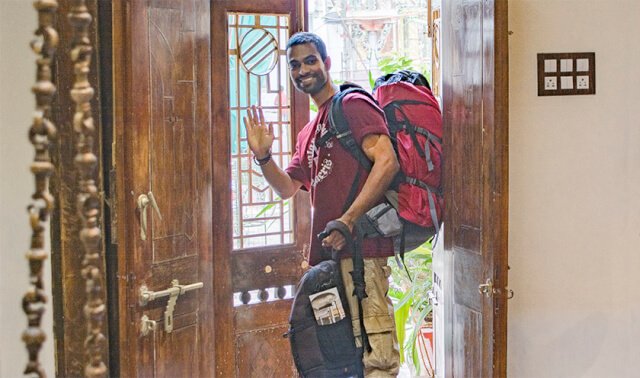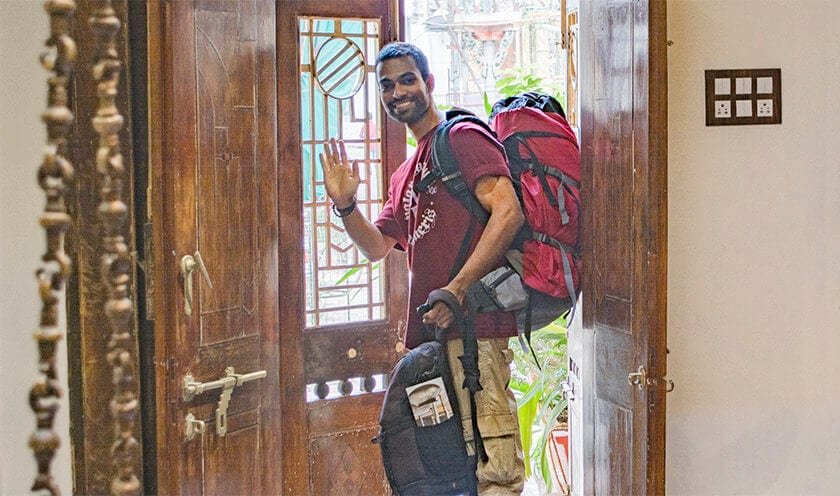 If you want to buy a trendy backpack, and a top/front loader doesn't matter, I recommend Wildcraft Trailblazer over the Forclaz. And their price is pretty much same too. Wildcraft Trailblazer comes in two sizes: a 50 and a 60ltr.
Camera Backpack
Lowepro DSLR Fastpack 150 AW: US-based Lowepro have the best camera backpacks and shoulder bags out there, and I've been using them since I've started travel blogging. Currently, I am using Lowepro Fastpack 150 that is perfect to carry a DSLR (with an attached lens), an extra lens, a 12-inch laptop, all chargers and a few other things in between. I've been using Fastpack 150 AW for over 1.5 years now, and I still love it. I like how it protects my camera from everything – dust, rain, as well as shocks, thanks to good padding inside out.
If you're a travel blogger or someone who carries a few digital equipments while traveling, look no further. However, based on the number of lenses you carry and the size of your laptop, you can check other options in the Lowepro Fastpack Backpack series.
Laptop Backpack
Carriall Vasco Laptop Backpack (PRICE: Nearly 5,000 INR): Carriall is India's first smart Anti-theft Backpack that comes with a Wireless Bluetooth Device that connects to a dedicated application. Meaning, if your bag moves beyond a set range, your phone will give a ring alert. Pretty useful, right?
I have used Carriall Vasco (Carriall has a few designs with Vasco being one of them) during a couple of small trips and loved it for many reasons. It comes with at least a dozen hidden pockets/zippers, an anti-scratch and durable body, a great inside padding (ideal for carrying a laptop without worrying about a thing), adjustable shoulder straps and even a USB charging point to charge your phone while on the go! At such a price tag, there cannot a better laptop backpack for traveling or for a daily use. The bag also comes with an 18-month warranty against defected material.
Cabin Zero 44 ltr (PRICE: 5,700 INR): If you're a frequent flyer and want to make the most of your cabin luggage without paying a dime extra, then go for this backpack. Particularly designed for air-travel its 55cm x 40cm x 20cm dimension fits into all cabin regulations so you that you can use 100% of your cabin space. The weight of the bag is moreover only 760g which means you can add more things to it and still not go overweight.
I used it for almost 6 months and loved the products. It looks trendy and its zippers open on 3 sides of the bag so you don't have to yank everything out like a top-loader backpack, but enjoy it as a suitcase.
---
Photography & Blogging
DSLR Camera
Sony Alpha 6300 (PRICE: Nearly 70,000 INR with 16-50 kit lens): It is said that the best camera is the one that you can carry everywhere, and I understood that expression when I actually I switched from the bulky Nikon D5200 to a mirrorless Sony. Weighing less than half of my previous Nikon and with a size almost half as slim, Sony has incredibly improved my photography because I've been clicking more pictures now than I ever did. Its small size has literally made travel photography so much easier – almost as easier as clicking with a phone.
What's better is Sony cameras come with an all-digital body (even their lens) which improves autofocus capabilities in low light (or no light) conditions. Sony Alpha 6300 moreover comes with a 4k video recording, quickest autofocus than any other cameras out there, and customizable buttons (set any button to any use) making photography so much easier.
And last but not the least, if you're into travel photography, look no further than a mirrorless. Because while traveling, lightweight and a smaller body are the two most important factors. And in mirrorless, either buy a Sony or a Fujifilm.
Action Camera
YI Action Camera (PRICE: Nearly 7,500 INR): There are many action cameras out there, with Hero GoPro leading the gang. The only problem is, Hero GoPro is undeniably expensive. Alternatives like SJCam and others lack way behind in quality. But Xiomi YI action camera, priced at INR 9k offers the same quality as that of a GoPro (visit my youtube channel to make yourself believe). In low light conditions, it surely disappoints a bit, but speaking of daylight shooting, it outruns many and competes with a Hero GoPro.
I've been using XiomiYI for more than two years now and totally love the sound and image quality. Go for Xiomi YI 4K Action Camera, if you want to click videos in 4k, but if 4k isn't a particular requirement for you, then buy a simple HD Xiomi YI.
Laptop 
Lenovo Yoga 310 11.6-inch (PRICE: Nearly 35,000 INR): Since the inception of my blogging career, in January 2016, I've been using Lenovo Yoga and I never desired for another laptop. Its 11.5-inch screen size makes it lightweight and easy to carry. Moreover, with a 360-degree screen rotation, which is also touch-enabled, it can be used as a tablet while traveling on buses or flight. What makes it even better for a traveler is its tough and durable body that comes with one year of accidental warranty.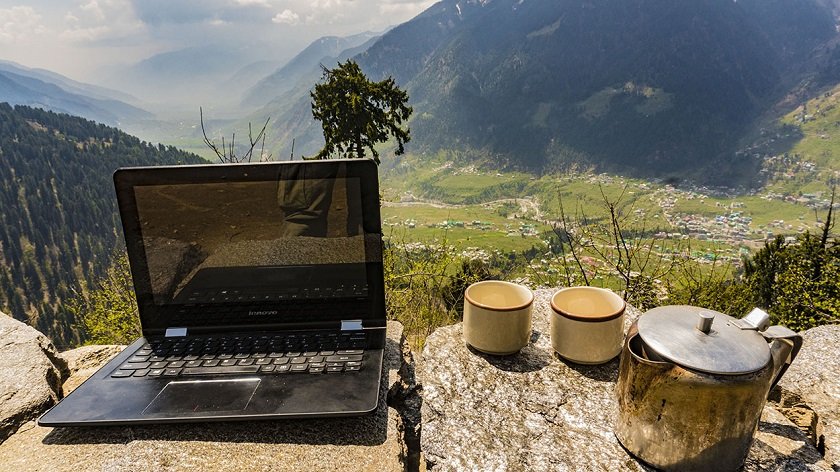 So if you're looking for a small-size budget notebook, with multiple functionalities, all without breaking your pocket, go for Lenovo Yoga 310 11.6-inch Laptop, without thinking twice. Also check the new Lenovo Yoga 520 and other in the series if you're looking for something more efficient in terms of the hardware.
Mobile Phone
One Plus 6 (PRICE: Nearly 32,000 INR): There are a few reasons why I loved One Plus, and everyone can guess one of them – the camera quality. Personally, I've found One Plus Six's camera better than iPhone8. It offers great low light capability and an amazing bokeh effect for portraits. My Instagramming has improved drastically since I've switched to One Plus Six.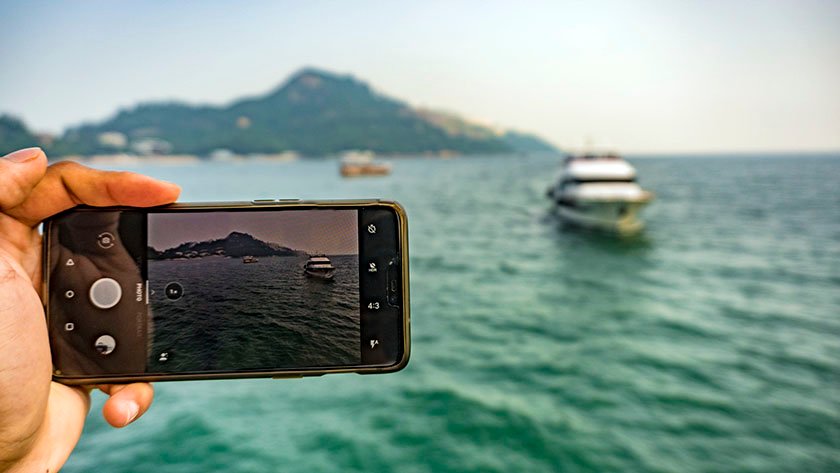 Another thing worth appreciating about One Plus is its battery, which gives one entire day of battery on heavy use, and if you're a light user, you can use one full-charge for two days easily. A quick charging option, thanks to its power adapter makes it even easier to deal with low battery situations, just plug-in the phone for 10 minutes and you're as good as a full-battery.
Drone
DJI SPARK
---
Camping & Trekking
2-Men Cinch Popup tent (PRICE: Nearly 25,000 INR): I know 25 thousand Rupees is s lot of investment for a 2-men tent, especially when you can buy a 2-men in India for less than 3000 Rupees, but if you start calculating the little luxuries this tent comes with, you won't doubt the price. Unlike a dome tent, that requires at least 5 minutes to set up, this is a popup tent, meaning, as soon as you unhook it the tent popups and be ready to use. In less than 10 seconds, you have your home ready for you. And packing is equally quick. You can also buy a solar power pack (for additional 10,000 Rupees) and even charge your electronic devices.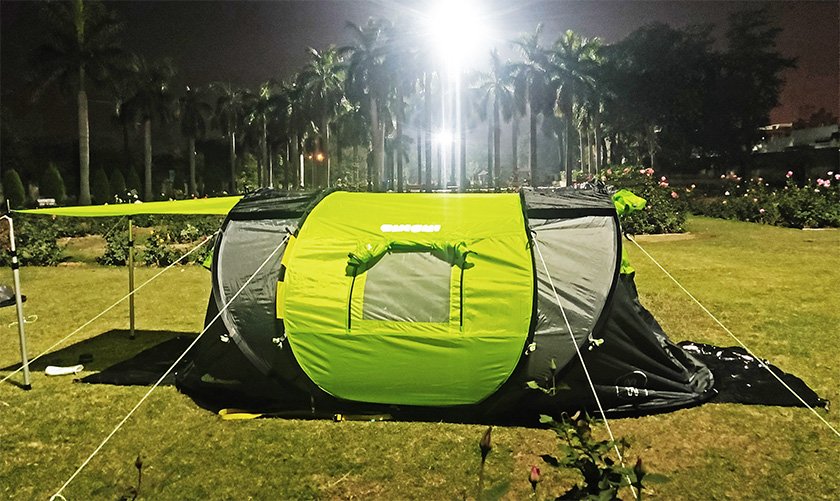 The tent weighs about 5 kilos, so it's not meant for backpackers tent, but for those who are into road trips and fancy the idea of camping (in comfort) rather than staying in a hotel.
I cannot think of a better tent than this. I have used this tent for almost two weeks in a row while changing location every night (in the mountains) and still not get tired or felt a need to have a home as I always did when I owned a regular dome tent. Cinchpopup Tents is a UK based company.
Tripole Shivalik Series Sleeping Bag: If you're looking for an ideal sleeping bag that is not very costly, go for Tripole's Shivalik series. It's an Indian company. Their sleeping bags are lightweight, wind and waterproof, and are compact to carry while hiking or trekking in the Himalayas. I've tested mine in -5 degree in Chandratal and other places in Ladakh and Spiti valley and it worked just well.
I know there are a number of options available out there, definitely, enough to leave you confused about which sleeping bag to go for, but trust my 2 years of occasional (and solo) camping stint in different climates, and just go for it. This sleeping bag is going to keep you warm, no matter what.
---
Music & Entertainment
Tagg Inferno 2.0 Bluetooth Earphones (PRICE: INR 2999): When you are traveling solo, music becomes your most trustful travel partner. The only thing is, you want something that is small in size (unlike your average headphones) and easy to carry.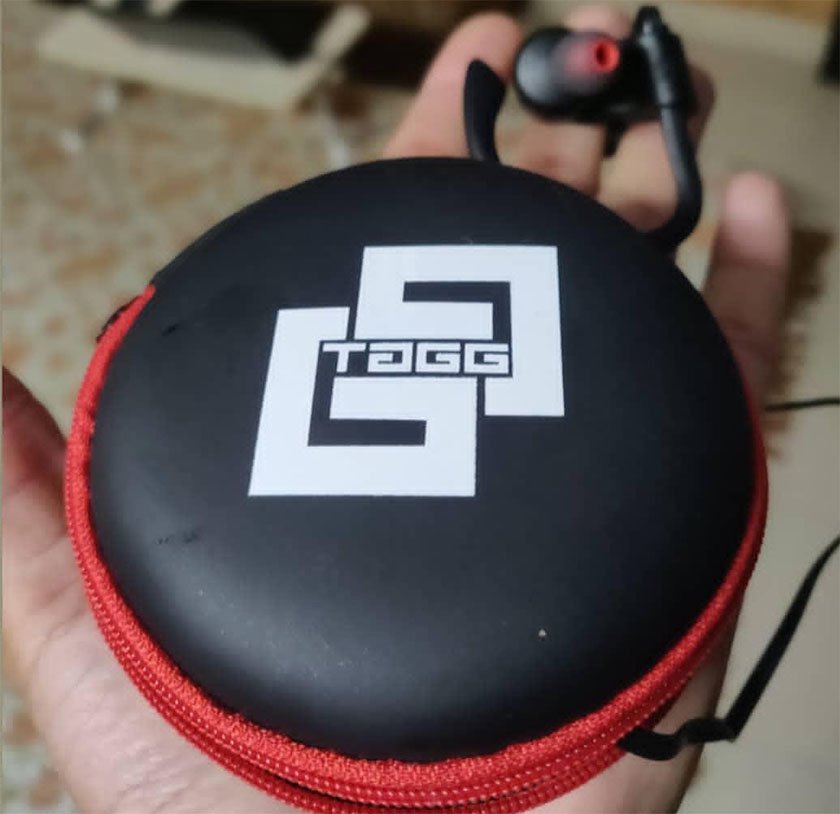 I've been using this pair of earphones (that comes with ear-shaped sidelining making sure it never slips or fall) for some time now and totally love its sound quality. It moreover comes with a small case making it easier to carelessly chuck it in your backpack when you're not using it. On a full-charge, Tagg Inferno 2.0 offers a play time of around seven hours and up to nine hours of talk time. Just trust my words… there cannot be a better alternative!