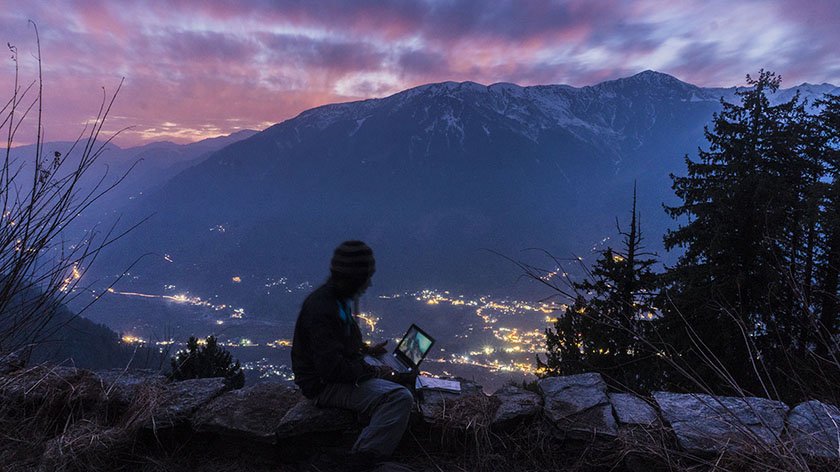 Recently I had bought a multi-domain hosting plan with Hostgator to start three new websites: one, for my campsite in Himachal Pradesh, one for the adventure motorbiking tours I organise in Ladakh and one, for a new travel blog I wanted to start for so long.
Please don't ask why I started a new travel blog, that's a long story and is moreover not necessary to know here. But what's necessary is the fact that I switched from Bluehost to Hostgator to start my new travel blog (PS: I've been using Bluehost for some time for FootlooseDev) and I did it for quite a few reasons.
Starting A Travel Blog Hosted On Hostgator: A Better Price
One thing that makes a big difference every time we go to the market to buy something is the price of the product (or service) and this was exactly what motivated me too to make my decision and go for Hostgator.
Though the hosting packages by  Hostgator can be comparatively slightly expensive than that of Bluehost's, from time to time, it offers amazing discounted deals. I used one such discounted deals too that gave me an unlimited domain hosting plan with Hostgator on a price almost similar to what the single domain hosting with Bluehost cost me.
To make it better, it is moreover going to cost me cheaper to renew with Hostgator (once my subscription expires) than how much it cost to renew the same plan with Bluehost, as Hostgator offers better subscription-renewal rates.
If you don't know it already, be privy to the fact that renewing your subscription is always a pain and is always more expensive than your original plan. So if you end up buying hosting from a company that offers expensive renewal plans, you're screwed!
Starting A Travel Blog Hosted On Hostgator: A Better Server
Another reason to switch to Hostgator was the praise I had heard from others about its servers' performance. And since I've switched to Hostgator, I am, myself, witnessing it. There hasn't been a single second of downtime in any of the three websites since the previous three months of my subscription.
Though in this case, Bluehost had also, always, provided very sophisticated servers and I had hardly faced any technical issues with FootlooseDev in the previous two years, except for a few minutes of downtime every few months, and that is quite natural.
Starting A Travel Blog Hosted On Hostgator: A Better Customer Service
And last but not least, Hostgator's customer service is better too than that of Bluehost which no longer has a direct email-the-support option and require you to login to your Bluehost customer account and raise a ticket to exchange messages with the support team.
Hostgator moreover offers an instant-chat option, something that comes in handy – particularly during the initial days of blogging when everything feels new and confusing. So Hostgator has it easier when it comes to technical support.
Now, if you decided to go for Hostgator and want to start a travel blog from a scratch using Hostgator's hosting plan, continue reading…
However, if you still chose Bluehost, here's an article on How To Start A Travel Blog Using Bluehost as your hosting server
Starting A New Travel Blog With Hostgator
Step 1: Choosing The Hosting Package & The Domain Name
The first step is choosing what hosting package you want: Single Domain or Multi-Domain. For newbie bloggers, it's not necessary to get a Dedicated Server but buy a hosting plan under a shared hosting as there will be no traffic overload in the initial days of blogging. If you think you will be having more than one websites, invest in a multi-domain website.
Additionally, if you know that you're going to keep the website for some time, it's always a good idea to buy a three-year hosting plan, because renewals are always expensive, as I said earlier.
To choose what package you want, go to HostGator's main page (hostgator.com) and you'll get brought to a page where they show their different hosting packages as shown below (just click on the following picture to get redirected to Hostgator's website):

Once you've chosen what plan you want to buy and provided with the domain name you want to register, create your account, put in your billing details, and you're good to go. Before checkout, you will be asked if you want any add-ons, forget everything in the beginning, except for Domain Privacy Protection because it will protect your personal information. All of the features that the rest of the add-ons provide can be achieved by downloading free plugins for your WordPress once you get your site up and running.
Step 2: Installing WordPress
Once you're done with payment and have received the password and username for the cPanel, log-on to your cPanel and install WordPress onto your site.
Once logged into the portal, you will see four tabs on top namely 'Manage Orders', 'My Billing', 'Setting', and 'Help'. Click on 'Manage Orders' and under it, 'List/Search Orders'. This page will have all your products listed.
Click on the WordPress package that you just purchased and wait for the next screen. Scroll to the WordPress Hosting section and click on Manage Service.
A new browser window will open which will be the dashboard we've been talking about earlier. Click on Install Site when you're ready to start installing your WordPress blog.
You will need to add necessary information about the site in the new screen and click on Add Site.
Once the initial setup is complete, you get redirected back to the dashboard where you will find the new domain listed under Installed Sites. It may take up to 10 minutes for your site to build in the backend. After the installation, you can hit the Admin button to log in to your WordPress blog.
Step 3: Choose A Theme And Install Plugins
After you've installed WordPress, go to 'http://YourTravelBlogName.com/wp-admin/' and use the username and password you've created to log in. From now on, you are not required to log in to your cPanel buy your WordPress panel.
Once you're in the admin panel, you need to ensure that you pick a WordPress theme for your blog. A good WordPress theme will ensure that your content is presented in the most optimum way. This is how your WordPress panel is going to look like:
To install a theme, click on the "Appearance" option on the left sidebar and then select Themes. Here you'll find several themes that have already been installed. Just choose one of the Free Themes, in the beginning, give your blog some time to develop before investing a paid theme if you ever wanted to buy one.
Besides themes, you may need to add some useful plugins from day one. Plugins basically enable you to add features to your blog without writing a single line of code. While there are thousands of plugins available, you initially need to install a few essential ones only.
These are the few plugins I suggest you download on day 1:
Jetpack – It offers you a spell-checker, contact forms, extra widgets, and a whole slew of more features
Google Analytics For WordPress – To allow Google to track your website traffic and use Google Analytics.
Akismet– To protect your blog from spammers leaving comments on your posts. Totally recommended for the first day.
Yoast SEO – For optimizing your articles for Google search, plus integrating Google Sitemaps and Analytics.
Easy Social Share Buttons – To add social media sharing buttons to your articles.
Now that we have the theme and plugin out of the way, you're ready to add your first blog.
Congratulations! You have successfully created a website!