Want to experience local Kumao culture and explore village life in Uttarakhand? Visit Naikana village, near Jageshwar Dham… because I have found you a place!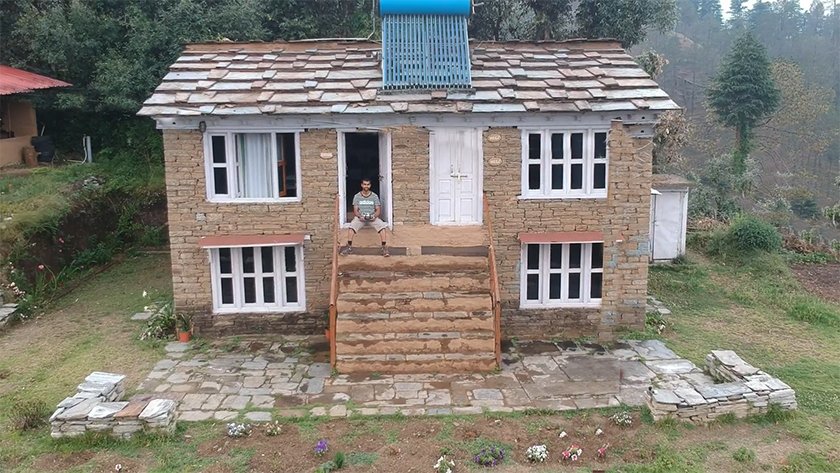 Not very high in the Himalayas in Uttarakhand, I happened to hike through dreamy villages, deodar forest, and secret rhododendron trails, where locals would wake up at 4 am to chop wood across daunting terrain, climbing up and down a steep mountain face while I carefully place one foot in front of the other. My two-day stay in this sleepy village called Naikana, which, in fact, was located only 20 minutes away from a well-trodden road, was, in fact, lost deep inside a forest. It remained the most beautiful highlight of the many journeys that I have previously had across in Uttarakhand, for it took me to a world where iPhones, drones, and Instagram still held no value.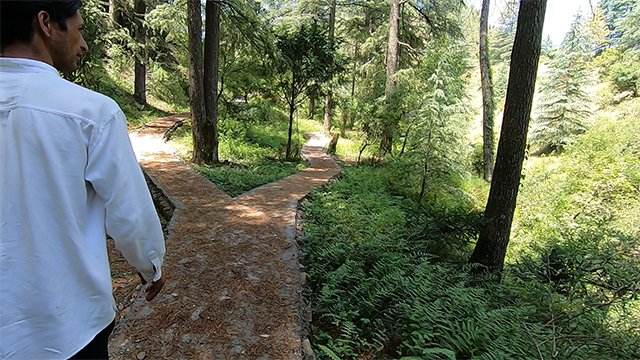 While planning for my 20-day road trip across Uttarakhand (and on Delhi-Munsiyari trail to be particular) I decided that for one night, at least, I was to going to have some real Kumaoni experience – where I would stay in a village and dine on local Kumaoni delicacies. But I wasn't sure when and how! To make it possible, however, I carried a tent, with a plan to camp in a village premises somewhere, befriend some locals (as I often do) and be a part of them as closely as possible. But as far as dining in someone's house, or trying some local food was concerned, I couldn't be sure how that was possible.
Since I was motorbiking after a long time, I pre-booked hotels online for the initial week. And the first few days – of my stay in Jim Corbett, Nainital and Almora – turned out to be quite ordinary. I stayed at hotels that guaranteed a comfortable stay, timely breakfast, and satisfactory customer service. But there was nothing local about the experience. Nothing raw. And then village Naikana (near Jageshwar Mandir) happened!
A Little About My Stay At Kot Naikana
While planning for Uttarakhand this time, I happened to find an exclusive stay on booking.com that, at least on their website, guaranteed local experience. "A renovated old house into a boutique homestay" their website read, and I was instantly intrigued – not because it said the term HOMESTAY (that term, I've figured, is vaguely misused in the mountains lately) but because it said A Renovated Old House. If nothing, I thought, I was at least going to experience some Kumaoni architecture.
I booked two nights there and it was exactly what I needed.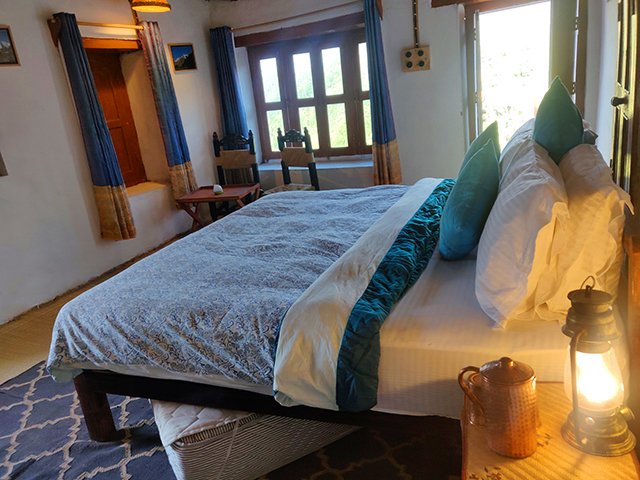 The property was literally an-old-house equipped with new-age comfort, located right in the middle of a village (with not much intrusion, of course) and apart from other activities, there was one activity that concluded my trip: a lunch in someone's house in the village.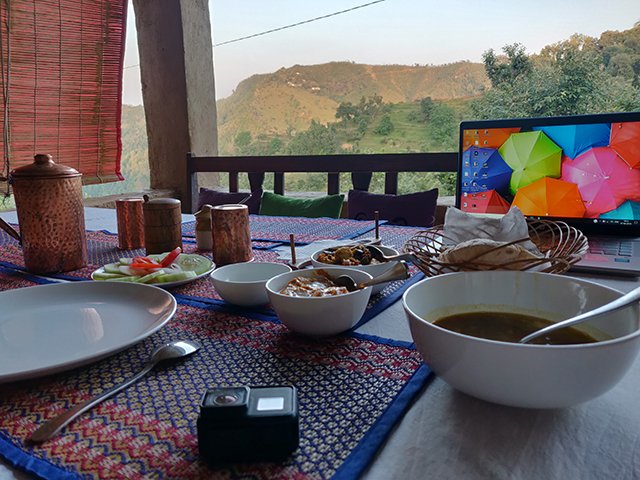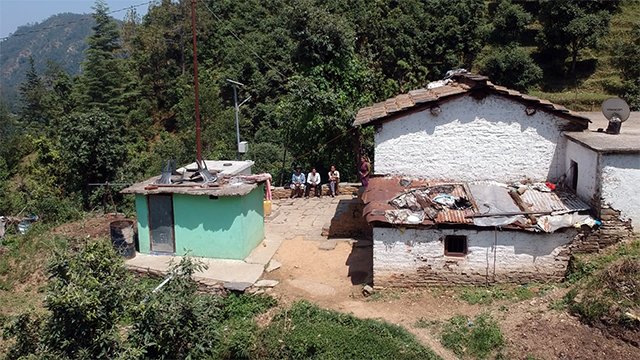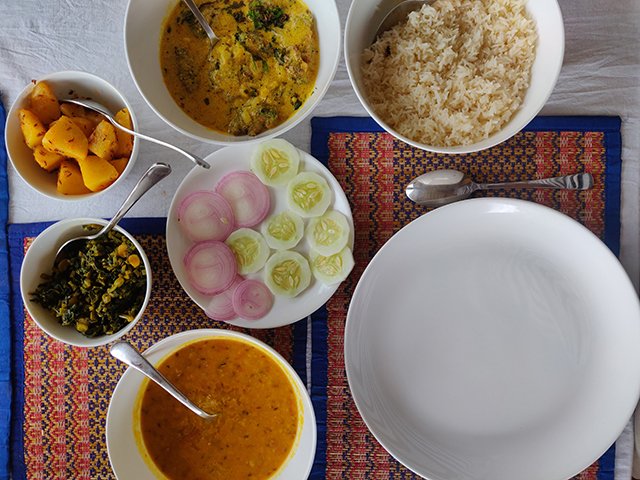 Sometimes Exception Is Good
If you're a frequent reader of my blog, you may already know that I do not promote hotels on my blog. Though I often briefly talk about Where To Stay in my usual City Guides, I do not dedicate my entire blog on the subject. But this time, as I spent two nights in Kot Naikana, and explored the place, I knew that there is going to be an exception. And it wasn't because of the local experience I happened to have there, for I have had more village experiences during my travel-stint than I can remember, but because it's was a kind of place where any regular tourist, regardless of what they're seeking, it happened to stay there, will appreciate some local culture and a pahadi life — just like my place FootlooseCamps in Manali.
Lately, I have been on a hunt around the Himalayas to explore offbeat homestays or tourist properties that offer more than just a shallow tourist experience. Places that owe to local culture and give back to the society they earn from. Where guests travel solo but end up being a part of the community and making more friends there than they have back home. And this was certainly one such place.
What To Expect From Village Naikana And Your Stay At Kot Naikana
In short: a true village experience where the air will be fresh, food will be organic and the company, seemingly familiar.
Speaking of my two days stay there, for one day, I was taken by a local guide to the famous Jageshwar Temple, located at only 20-minute walk from Kot Naikana. After spending about an hour exploring the 16th century and soaking in the good vibes, we headed to a short jungle trek that lasted for about a couple of hours.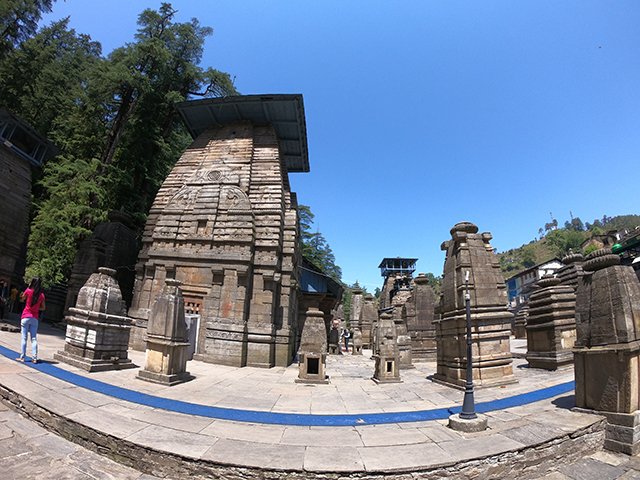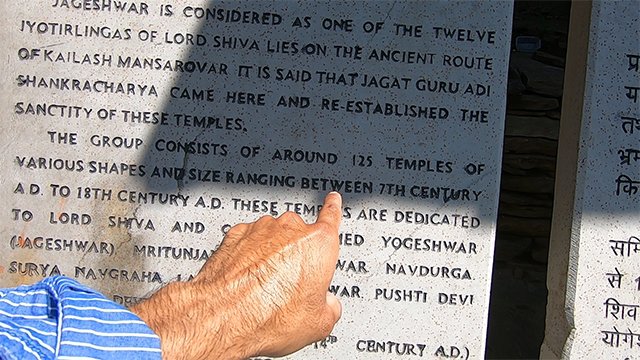 Once done, I was taken to a local family's house for an authentic Kumaoni Lunch including Bhang ki Chutney, a few types of lentils, Kandali Saag, rice, some Kumaoni Raita and Mandua ki Roti (made from a cereal called Mandua) — one massive feast that completed my urge to dine in at someone's house.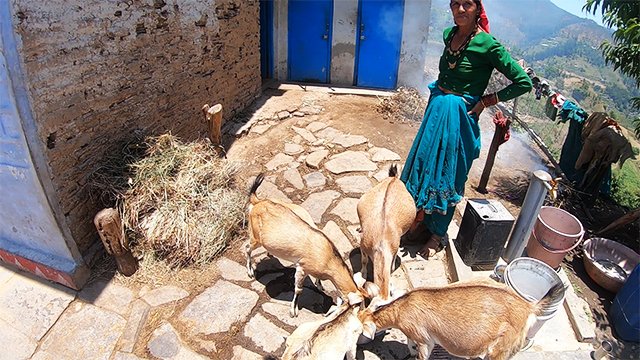 In just two days, I spent a fair share of my time exploring the village life and the hardships of the locals — from collecting firewood to walking long distances to go to school. All in all was an experience to topple my notion of India's rural-urban divide.
How To Get There
To start with, and make it easier, just Google Map Navigate for Kot Naikana. Now, if you're driving, you can either park your vehicle at Jageshwar Mandir and trek from there. Or, you can go to the other side of the circle (imagine Kot Naikana as the center of a circle, and you're on the other side now) at Sankar Jaim Temple (which can also be Google navigated) and follow a more rural and smaller trail to Naikana Village (3-5km from Sankar Jaim temple). From this point, your stay is about 3 minutes walk.
If you're taking a bus, however, you will have to take a bus that goes from Almora to Pithoragarh (or the other way) and get off at the road that goes towards Sankar Jaim temple. Walk from here will be around 4-6 km.
Further Reading: Delhi To Munsiyari Road Trip Itinerary
You can also watch the Youtube video of my Naikana Village: