Visiting Sabah, in Malaysia? How about doing the offbeat and trying some camping, hiking and white river-rafting in Kiulu River.
"Who goes camping in a new country anyway? Don't you think jungles look the same everywhere?" I remember how my friends initially reacted as I told them about my upcoming trip to Malaysia.
And I understand their disapproval. For most people (and this particularly applies to Indians) visiting a new country, streets and cities remain the biggest fascination. I mean if you are visiting, let's say, Japan for an instance, would you rather go for hiking, or carefully spend your time planning pretty selfies at the famous Shibuya Station intersection in Tokyo or watching sumo wrestlers choking each other with their majestic butt. Similarly, for Malaysia, exploring Malaysian food, Malaysian streets, or something else that's more Malaysian in appearance should be high in your bucket list, over hiking a ubiquitous jungle.
So yea, when I shared my 5-day travel itinerary with my friends, over a few drinks in New Delhi, I didn't get a very positive response. According to my itinerary, 2 days were carefully planned for a blogger's award function hosted by TravelDotEarth and Sabah Tourism – the very reason why we (a group of 52 travel and lifestyle bloggers from India) were visiting Sabah, in Malaysia at first place, leaving the rest of the two days (at least for me) for camping, hiking, and river-rafting in the Malaysian wilderness.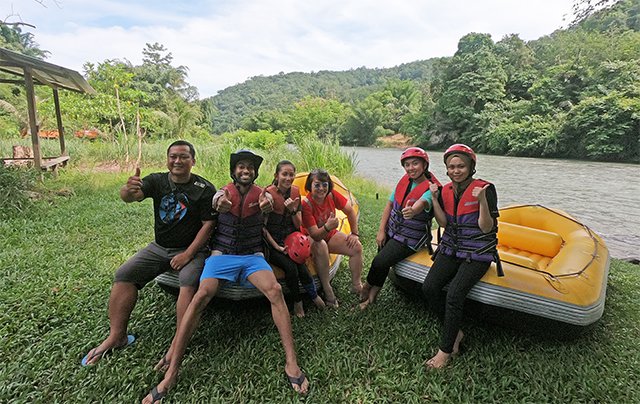 Hiking In The Jungles In Sabah: Why I Was Excited About It
Before I write any further and tell you how much I loved the entire experience of camping and hiking and river-rafting in Kiulu river, in Sabah, let me tell you why I was excited about it at first place.
Over 50% of Sabah's land mass is covered under forest reserves and tree cover – making adventure activities relating to nature is its original USP. So just like while visiting Kuala Lumpur, you would visit the famous Petronas Twin Tower and shop till you drop, for someplace like Sabah, that is famous for its natural reserves, staying close to nature is akin to covering its highlight.
Also Read: My First Impression Of Sabah
Additionally, when I was backpacking in Malaysian Peninsular back in 2017, many people told me how Malaysian Borneo has a small-town-like vibe and is full of ethnic tribes. I was told how people there, particularly in the small towns are so friendly that it feels like a different Malaysia altogether. So when I found out about our stay at this offbeat place in a town called Kiulu located at least one hour drive away from Kota Kinabalu, the capital town of Sabah, I couldn't be more excited. This meant I would, if nothing else, experience the epitome of the friendliness of local Malaysians in Sabah and may just end up learning more about the traditional tribes in Malaysia.
And then, being an adventure enthusiast and more of a camper than a city-dweller, camping, and hiking, as I visited Malaysia this time, made even more sense.
Adventure Camping In Sabah: What's And Where's
About one-hour drive southeast of Kota Kinabalu life was rather in a slow lane. Here people were even fewer in number (than they already were in Kota Kinabalu) and the smell of the jungle was more fresh.
We were taken to a place called Kondi's Point – our home for our next two days.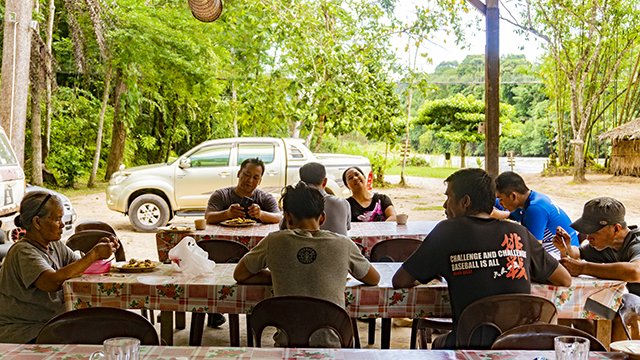 Though popular for camping, hiking and relaxing, our stay at Kondi's Point was rather flavored with a few other activities including netting, white river rafting, rubber tapping, cooking and a few traditional dance performances over dinner.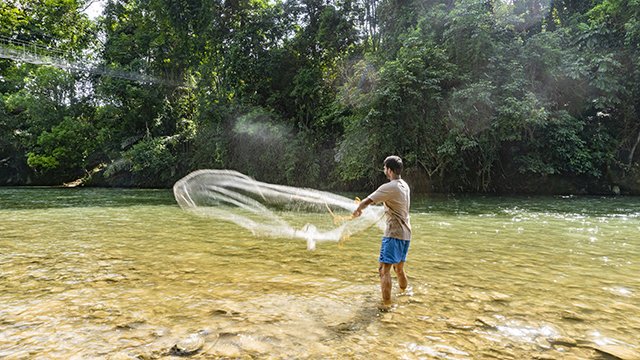 What's interesting was, we were even given basic survival lessons if ever we found ourselves stranded in a jungle – the chances of which were very slim, given (pretty much) everyone in our group was a fashion blogger, except for me, of course.
Where activities surely added to the experience, I was happy even if we were left on our own, with some food and the refreshing Kiulu river to swim in. The place, in itself, was so complete that we didn't need much to see and do to have a good time.
Do I Recommend A Similar Experience?
Well, to honestly tell you, if you're a kind of person who enjoys nature no matter what, Kondi's point (or perhaps some other place near Kiulu River) is certainly a place to visit, even if you're visiting Sabah, or say Malaysia, for the first time, and are going to be there for just a few days.
But if you do not want to stay at Kondi's Point and rather prefer staying in Kota Kinabalu watching the sunset at the waterfront – which certainly makes perfect sense – the fact that you can visit Kiulu on a day trip, do the river-rafting, trek in the jungle for an hour and return, cannot be disregarded.
And then, given that Sabah is known for its rich biodiversity and jungle reserves, the very idea of exploring one of its jungle while still not missing much of the city experience is always a better choice than exploring the town inside out and returning home with an incomplete experience.
Even a day trip to a place like Kondi's Point will give you a much broader sense of life in and around Sabah than just staying in Kota Kinabalu and only seeing the modern side of Sabah.
Have you tried camping or river-rafting in Sabah or someplace else in Malaysia? How would you rate the experience?
Disclaimer: I visited Sabah on a blog trip with Travel.Earth, Sabah Tourism and Air Asia. While my trip and experiences were sponsored by them, all inputs provided above are solely personal. I only recommend what I personally try, and find worth appreciating.